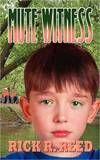 MLR Press / October 2009
Reviewed by: Vince A. Liaguno
If there was ever a time to remember that old adage about not judging a book by its cover, it would be when passing by a stack of Rick R. Reed's latest, Mute Witness, in the bookstore. Let this reviewer go on record: Reed deserves a better budget for his book covers than the amateurish schlock that his publisher slapped together for this otherwise competent, smart suspense thriller. Everything here – from the colors and font to the little boy with the single tear coursing down his cheek to the blurry images of two men watching him from a nearby riverbank (one appears to be shirtless, which is disturbing and downright creepy considering the subject matter) – smacks of slapdash work at the hands of someone just learning desktop publishing.
First impressions aside, Mute Witness is a solid addition to Reed's quickly growing catalog of competent thrillers featuring LGBT characters and themes.
Sean Dawes is about to live every parent's worst nightmare – the abduction of his eight-year-old son. Fear quickly turns to relief when little Jason is found alive, but that relief is short-lived when it's discovered that the boy has been sexually abused and rendered mute from the trauma. When the boy's mother – and Sean's ex-wife – is sidelined in a car accident, the boy's grandparents prey upon small town homophobia and soon all eyes are cast upon Sean and his live-in boyfriend, Austin, as the likely culprits. But the real pedophile is closer at hand than anyone would suspect, and Sean soon finds himself separated again from his son and at odds with local law enforcement, the family court system, his Bible-thumping in-laws, the boy's stepfather, and even Austin.
Reed has developed a knack for these tidy suspense thrillers in relative short order. For his many fans, this is a good thing because there's nary any downtime between reading fixes; for the more seasoned suspense reader, however, Reed is approaching formulaic with each successive outing. One can't help think in reading Mute Witness that Reed may be sacrificing some ingenuity for a quick turnout. For example, the pedophile's identity is revealed much too early in the book. There existed here a superb potential for mystery among the suspense that Reed tosses out with the premature disclosure to the reader of the boy's attacker. Especially considering the weighty theme of homosexuality and child-rearing (and the myriad misconceptions that come along with it), Reed missed an opportunity to really explore the subject matter. Instead, the self-righteous, bigoted grandmother is reduced to mere caricature and used as a plot device. In the end, it comes off as a cheap use of an expensive fragrance – Imperial Majesty on a 42nd Street hooker.
Criticism and missed opportunities aside, Mute Witness is an undeniable page-turner. Reed knows how to layer this type of novel and just when to jack up the tension. He employs a large enough ensemble of characters to keep the action from being bogged down in over-exposure of a single character. It's mean and lean throughout, with no wasted scenes or dialogue to detract from his excellent pacing.
For readers who enjoy a certain comfort level from their authors, Reed is their go-to guy. Mute Witness is the work of a seasoned thriller maestro, with just enough edge to make this novel about the strength of a father's love and the horror of child sexual abuse stand out in the crowded thriller showroom.
Purchase Mute Witness by Rick R. Reed.
Posted
on Sunday, March 21, 2010 at 06:31PM
by

Dark Scribe Magazine
in Book Reviews
| Comments Off

View Printer Friendly Version

Email Article to Friend