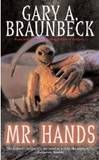 Leisure / July 2007
Reviewed by: Derek Clendening
If you've ever picked up a book that commanded your attention and refused to be put down, Gary Braunbeck's Mr. Hands will take you to familiar territory. Mr. Hands was published by Leisure books this past summer and is a compulsively readable return to Cedar Hill, the fictional setting of past Braunbeck works such as Keepers and In Silent Graves.
Braunbeck's latest starts as so many good yarns do: with three guys sitting around in a bar, prepped for one hell of a story. He uses the oral storytelling tradition as a platform for the horror of Mr. Hands, a unique narrative structure in today's mass market horror. Braunbeck constructs a non-formulaic plot more complex than linear storytelling, but without being too complicated to detract from its escapist enjoyment. The point of view volleys between first and third person to catch up with the desperate, on-the-run narrator. The cast of characters are all unique, believable creations. Even the bar patrons, stock characters in the hands of a lesser writer, are given a refreshing twist.
The major strength in Mr. Hands is Braunbeck's powerful, crisp writing. Excellent prose is no throwback, and Braunbeck matches up with such greats as Richard Laymon, Jack Ketchum and Ray Garton. The difference between Braunbeck and his contemporaries is the subtlety in his hands-over-your-face horror.
The novel's only disappointment is that it is too short. As silly as that sounds, its shortness detracts from the overall reading experience; perhaps what Braunbeck gives us is so good, that the reader feels teased and not satiated. Sometimes when a mass market novel comes up short in its word count, the author and publisher will add a bonus novella to pad it. Mr. Hands is no exception to this trend with the inclusion of a bonus novella, The Kiss of the Mudman - equally entertaining and still connected to the Cedar Hill action.
It's hard to be the standout novel of the year when you're clocking in at a lean 260 pages, but Mr. Hands is still a first-rate literary achievement and Braunbeck need not worry about any shortcomings – literal or otherwise.
Purchase Gary Braunbeck's Mr. Hands.
Posted
on Wednesday, November 7, 2007 at 01:26PM
by

Dark Scribe Magazine
in Book Reviews
| Comments Off

View Printer Friendly Version

Email Article to Friend