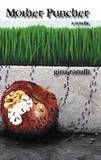 Afterbirth Books / June 2008
Reviewed by: Jeff Burk
You might not know who Gina Ranalli is, but you will soon. As the author of several novellas and numerous short stories, Ranalli has already developed a modest cult following. Closely associated with the bizarro community, her latest novella from Afterbirth books, Mother Puncher, has gotten the wider horror scene buzzing — and for good reason. She has written a dark and twisted social satire that stands high above the genre competition.
The world is suffering a population problem; there are too many people and not enough resources. To discourage reproduction, the government has resorted to creative problem solving. That's where Ed Means comes in. He is a Mother Puncher. It is his job to give mothers (and fathers — when they're around) a good punch right after their child's birth so they remember not to spawn again. To tell any more would spoil the story's many twists and turns.
Far from your standard horror tale, the closest one gets to a monster here is government policy. The absence of traditional horror elements notwithstanding, the darkness of the storyline will make this slim volume feel right a home in any collection of weird fiction. Ranalli paints a world on the brink of collapse, one in which the most absurd solutions seem rational.
The horror genre has always easily lent itself to social and political commentary. Through it, talented writers can manipulate and explore the darker side of human nature. Following in the footsteps of H. G. Wells and Bentley Little, Ranalli has crafted a tale that comments on gender, the birth industry, and an individual's right to determine his or her own destiny. Admittedly, these are heavy topics to be dealt with in escapist fiction, and there is an ever-present danger of a writer losing sense of their story for the sake of preaching to an audience. Fortunately, Ranalli avoids this pitfall and never loses sight of the story in the bigger issues with she is dealing. Watch for her profile to continue to rise.
Purchase Mother Puncher by Gina Ranalli.
Posted
on Thursday, October 23, 2008 at 11:07AM
by

Dark Scribe Magazine
in Small Press Chills
| Comments Off

View Printer Friendly Version

Email Article to Friend