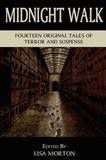 Darkhouse Publishing / June 2009
Reviewed by: Vince A. Liaguno
The problem with horror, editor Lisa Morton theorizes in her introduction to Midnight Walk, is that the genre is trying too hard to cling to its old ways. She goes on to cite the thematic expansion of other literary genres while lamenting the fact that horror fiction seems firmly rooted in the Stephen King era, circa 1980, when evil settled into suburbia and hasn't ventured out of the cul-de-sac since. Blame it on the housing market, but chances are that falling home prices aren't so much the culprits as are lackluster imitation promulgated by a lazy publishing industry and the disconcerting lack of imagination of unchallenged readers. But that's a discussion for another time.
What Morton sets forth in this tale of fourteen short stories – written primarily by writers residing in the American Southwest – is an expansion on the themes and settings of modern horror. From the Far East to the Indian ghetto, the backdrops of these tales offer distinct flavorings to the terrors at their core. And while some of the horrors might be familiar horror tropes at first glance – zombies, ghosts, malevolent faeries, urban legends – the cultural fine points Morton and company imbue each tale with will have you looking at these genre staples in an entirely new way.
Thematically, the stories in Midnight Walk run the gamut from grief and its many expressions ("Monsoon Devil", "The Grieving Process") to revenge ("Inside Out", "The Bear Who Swallowed the Sky") and from coming of age ("The Guixi Sisters", "Silver Needle", "The Measure of a Man") to ecological horror ("The Tennatrick", "The Svancara Supper Society").
In "Monsoon Devil" by Armand Constantine, a grief-stricken husband haunted by the memories of his late wife seeks out a holy man with slithering tattoos who can summon the titular character – "a patron of things revealed and hidden" – so he can forget. The intriguing backdrop of New Delhi comes to vivid life in Constantine's skilled hands, allowing readers a multi-sensory experience of the abject poverty and filth of the ghettos of India only glimpsed in shows like The Amazing Race and films like Slumdog Millionaire.
A resourceful female arson investigator comes face-to-face with wildfire-igniting monsters in John Palisano's "The Tennatrick", a clever literary response to the environmental disasters of the Southern California wildfires that have burned rampant these past few years. Palisano infuses a traditional matinee monster with an inventive, ecological horror response to the unfathomable destruction and power of Mother Nature.
Jodi Kaplan Lester introduces readers to "The Guixi Sisters", three orphaned Chinese girls, who reunite with their orphanage caretaker years after each is adopted, in a beautifully rendered story of ancestral descent and ancient Chinese tradition. With vivid imagery and just a hint of surrealism that never takes the story out of its own reality, Kaplan crafts a marvelous tale evocative of The Joy Luck Club meets Children of the Corn.
Scottish folklore and shapeshifting faeries take center stage in Richard Grove's atmospheric Halloween tale, "Silver Needle", in which a thirteen year-old boy out on his first solo Halloween night outing runs afoul of some schoolyard bullies and his own heritage. Armed only with the titular instrument, hidden in the handcrafted costume his grandmother made for him, the boy must undergo a rite of passage into manhood like no another. Grove offers a solid twist on the coming of age tale, perfect for recitation to the kiddies before they venture out trick-or-treating.
For anyone burnt out on the glut of zombies in popular fiction these days, George Willis' "The Measure of a Man" may be just the cure for your undead overload. Eschewing all sense of cliché, Willis crafts a marvelously imaginative South African-set tale in which a tribe of nineteenth-century Zulu warriors encounters a ship full of zombie invaders. Told from the POV of a young warrior-in-training who first spots the fog-enshrouded vessel from his mountain outpost, Willis' story at once refreshes the zombie sub-genre while staying true to its basic tenets. A first-rate example of how something old can be new again in capable hands.
In Mike McCarty's "The Grieving Process", a husband struggles to understand his late wife's final act, and goes to great lengths to numb his own sense of loss. McCarty's brokenhearted protagonist rings true throughout in this melancholy story of the harmful effects of not wanting to let go. A very dark exploration of grief that will leave a pungent yet poignant taste of loss in the mouth.
In "Late Check-In" by Vince Churchill, a motorcyclist traveling cross-country to put distance between his impending divorce and his lingering feelings for his soon-to-be ex encounters a night of horror in a backwoods Tennessee motel. While the story has an impressive Tales of the Darkside twist ending that's both creepy and satisfying, one's left with the impression that Churchill missed a grand opportunity to explore race and region, only hinted at in the opening paragraphs.
A preening, self-obsessed male model learns a lesson that neither beauty nor ugliness is skin deep in Lisa Majewski's "Inside Out", a cautionary tale of one-night stands gone bad. From her deceptive opening paragraphs through to her Twilight Zone ending, Majewski ably blends the world of high fashion modeling with the darkness of black magic in this thoroughly satisfying revenge tale that will appeal to any lover ever jilted and anyone whose only crime is wanting to be loved for who they are and not what they look like in our increasingly superficial culture.
"Diana and the Goong-Si" by Lisa Morton is an exquisitely detailed story of a British noblewoman who travels to China in 1880 in search of her missing husband. Morton crafts a mesmerizing cross-genre tale that blends ancient Chinese culture with the undead and vampirism within an authentic historical context of the late 19th-century opium-for-tea trading industry between Britain and China. Infused with great humanity, "Diana and the Goong-Si" possesses the delicate period sensibilities of The Painted Veil and the hair-raising psychic vampirism elements of One Dark Night.
"Alley Oops" by Del Howison is one of those characters-on-a-collision-course stories in which good and evil are headed straight for one another. With its ripped-from-the-headlines brutality coupled with an ending you won't see coming, Howison capably turns this simple story of petty crime into an ending of jaw-dropping irony.
Kelly Dunn blends the worlds of high stakes estate appraisal and biblical gods and demons in "The Mysterious Name", a Needful Things-esque tale of false gods and the lengths people are willing to go in the name of wealth. Despite its sometimes heavy-handed commentary on the trappings of materialism, Dunn creates a hallucinogenic tale of greed and the price others pay for it in this story of haves and have-nots in the small, affluent town of Logro.
R.B. Payne's "Eddie G. at the Gates of Hell" explores the devastating effects of schizophrenia on the family and self in this visceral, disturbing tale of doppelgangers, dead bodies, animal slaughterhouses, and a curious monster fly set against the backdrop of the arid Southwestern desert and an abandoned roadside tourist trap along the legendary Route 66.
A Native American print-shop worker invokes American Indian folklore to seek revenge on an unscrupulous boss in whose eyes all employees are not created equal in Jason M. Light's "The Bear Who Swallowed the Sky", an intriguing allegorical tale of workplace discrimination that blends folklore with Wizard of Oz imagery.
In Joey O'Bryan's closer, the futuristic "The Svancara Supper Society", a global food crisis stretches the ethical boundaries of scientific research as a group of researchers use questionable means to uncover the secret ingredient of palatable synthetic food. Cloning is the spice of life (and death) in this grim, disturbing tale of a society on the verge of ecological disaster. O'Bryan successfully keeps the science elements of the story in check, using them to lend authenticity but never letting them overpower the horror at hand.
Editor Morton skillfully keeps the proceedings from devolving into a poor man's literary equivalent of the Travel Channel by keeping her eye on the ball. Horror first is the motto here, with culture and setting enhancing rather than overwhelming. She pluckily promises "more than the same old crap" in her introduction, and she delivers the goods through the capable pens of the writers whose stories she's selected for this engaging anthology. Interestingly, among standouts like Kaplan's "The Guixi Sisters", Constantine's "Monsoon Devil", and Willis' "The Measure of a Man", Morton's own offering is a treasure in its own right that demonstrates an editor who understands her own mission; an anthologist whose writer roots help firmly ground the collection.
Amazing what a trip outside our comfort zones will do for the soul's sense of perspective. In Midnight Walk, Morton assembles a solid group of writers who mine fertile soil to create genuinely unique horror outings. Even those who stay closer to home take what might otherwise appear as unremarkable formulaic horror at face value and run it through the literary car wash, where it emerges sparkling and refreshed, unsullied by cliché or convention.
Exercise those flabby horror muscles and take a stroll with fourteen horror writers who understand what healthy horror is. With all natural ingredients, no imitation flavorings, and great taste, Midnight Walk is literary tapas for the horror enthusiast's soul.
Purchase Midnight Walk, edited by Lisa Morton.
Posted
on Monday, September 28, 2009 at 11:43AM
by

Dark Scribe Magazine
in Anthology Reviews
| Comments Off

View Printer Friendly Version

Email Article to Friend