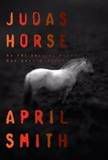 Alfred A. Knopf / February 2008
Reviewed by: Martel Sardina
Special Agent Ana Grey is back for her third adventure in April Smith's Judas Horse. Writing series mysteries requires the author to perform a juggling act. Each book in the series should stand on its own. Authors must provide enough backstory to give new readers context without going overboard on the details and boring those who have followed the series since its inception. In this case, April Smith succeeds on both counts.
Ana's return to duty after a justified shooting incident leaves her reeling when she learns that a fellow agent has been murdered. The group responsible, FAN (Free Animals Now), are hard-core anarchists, who use the cause of animal rights as a cover for their acts of domestic terrorism. Ana must go undercover to infiltrate this group and bring the murderers to justice.
After undergoing grueling training at the FBI's undercover school, Ana emerges as Darcy DeGuzman, an animal lover who is determined to help save the wild mustangs of the West. Darcy heads to Oregon determined to work her way into the good graces of Julius Emerson Phelps, one of the leaders of FAN.
As Ana immerses herself and becomes a member of Julius's "family," she discovers that Julius is a master of deception. He harbors a grudge against the FBI after being wronged in the past and now possesses scandalous information that could rock the Bureau to its core.
The plight of the wild mustang is not just a fictional problem. In Smith's acknowledgements, she notes that Judas Horse grew out of a research trip to Oregon. Observing the mustangs in the wild was a "life-changing experience." Smith is now a member of Return to Freedom, a non-profit horse sanctuary that provides safe haven to nearly two hundred wild horses and burros.
Smith does an outstanding job of showing the reader what it is like for a deep-cover agent to assume another identity. The physical challenges Ana faces are nothing compared to the psychological battle she endures. With each day that passes, Ana loses a little bit more of herself to her alter ego. She is often left wondering whose side she should really be on.
With each turn of the page, Smith finds a way to raise the stakes for all of the parties involved. The result is a fast-paced thrill ride, brilliantly executed, which should please Smith's previously established fan base and newcomers alike.
Purchase April Smith's Judas Horse.
Posted
on Friday, March 21, 2008 at 11:32AM
by

Dark Scribe Magazine
in Book Reviews
| Comments Off

View Printer Friendly Version

Email Article to Friend