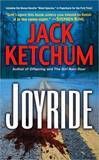 Leisure Books / June 2010
Reviewed by: Joan Turner
Wayne Lock hadn't killed anything in years, and even then it had only been one old dog and a few cats. But he wants to so much, even though he doesn't dare. Not even during intercourse with his girlfriend, Susan, when he has his hands around her neck so tight she can't breath, and the need to kill is an ache inside him, he still cannot do it, has to turn her loose, and he is so close he feels like a coward for not going through with it.
Angry, Susan leaves, and Wayne resumes his walk up the mountainside alone. He stops to glance over the ledge believing he can desensitize himself to the vertigo he has in this way. Below, he sees something that changes his life forever.
Howard Gardner abused his wife, Carole, physically, emotionally and sexually. Divorced, he continued to stalk her despite a restraining order. Carole and her new man, Lee, have tried everything to dissuade him, but to no avail. In desperation, they decide murder is the only answer.
On the lonely mountain trail, they carry out the deed, unaware that Wayne is watching from above and becoming more excited by the minute. They dare to do what he has only dreamed of doing, and he wants in on it, wants to know what it is like. He wants to ask them. He recognizes Carole's lover, Lee, as a customer at the tavern where he works, and soon tracks them down. Kidnapping the couple, he begins a murderous road trip with Lee and Carole as his unwilling witnesses.
Counterbalancing the main plot of Wayne Lock and his nightmarish killing spree, the subplot is the story of the policeman, Rule, who knew Carole and Howard when they were married and had arrested Howard for abuse. Rule himself is not without internal conflicts. He is trying to reconcile himself to the breakup with his long-time girlfriend and is suffering from guilt because dedication to his job and putting work before family drove her away.
Joyride (a.k.a. Roadkill) was published in the U.K. in 1994, by the Berkley Publishing Group in 1995, and as a limited edition by Cemetery Dance Publications in 2008. The new Leisure paperback edition also includes the novella "Weed Species," a terrifying tale of human depravity.

"Weed species," Ketchum writes, "is an organism that successfully invades and disturbs natural ecosystems, displacing native species. The term is most often applied to, but not limited to, plants and may include kudzu, water hyacinth, zebra mussel, Burmese python, ecotourism and sociopath."
Sherry and Owen are two twisted souls with a yen for sadistic sex. The story opens with Sherry's Christmas gifts to Owen — her teenage sister's virginity and a camcorder. Disaster happens and from there the plot becomes ever more brutal. One of the abused characters becomes an abuser as well perpetuating the cruelty.

Like Thomas Harris, Jack Ketchum often bases his psychological thrillers on true crime cases, probing the depths of human depravity and laying bare the workings of the sociopathic mind. According to his endnotes "On Writing Joyride," he found his inspiration for this novel in Zola's La Bete Humaine and in the lives of killers Howard Unruh and Thomas Eugene Braun whose exploits are detailed in Jay Robert Nash's Bloodletters and Badmen. The latter also provided original source material for Ketchum's sensational The Girl Next Door.
The plot of Joyride is relatively straightforward and uncomplicated, but it is a satisfying read nonetheless. "Weed Species" is a disturbing tale delivered in Ketchum's violently graphic style. Both stories are fast moving and suspenseful with tight prose and well paced narrative action. Jack Ketchum is a master storyteller with keen insight into the dark side of the human psyche.
Purchase Joyride by Jack Ketchum.
Posted
on Tuesday, July 27, 2010 at 02:05PM
by

Dark Scribe Magazine
in Book Reviews
| Comments Off

View Printer Friendly Version

Email Article to Friend