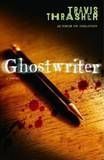 Faith Words (Hachette Book Group) / May 2009
Reviewed by: Martel Sardina
Travis Thrasher told me not to doubt that his latest novel, Ghostwriter, was horror despite the fact that most of the other books his publisher puts out are shelved in the Christian Fiction or Inspirational section of the bookstore.
I flipped the book over and read the premise. Dennis Shore, a bestselling horror author, suffers from writers' block after his wife's death. He steals a fledgling writer's work, and claims it as his own. Shore thinks he's gotten away with it, until he's confronted by Cillian Reed, the young man he stole from. What starts as harassment spirals out of control as Dennis realizes that more than his career as at stake. His actions may have deadly consequences. And while the premise sounded good, I knew from prior attempts to read so called "Christian horror" that this story had the potential to turn me off if Trasher got the balance of "Christian" versus "horror" wrong.
Thrasher quickly establishes Dennis Shore's empty world. He lost his wife to cancer. His daughter is off to college. Dennis is left alone in a big, Victorian house with painful memories and an inability to translate any of his feelings into words on the page. He finds a manuscript sent by Cillian Reed, a fan looking for feedback. Shore reads it and discovers that it is quite good. His editor and publisher want a new book. His deadline is approaching. Dennis knows that he can't deliver. He knows that it is wrong to pass off Cillian's work as his own, but feels he has no choice. He's only doing what he needs to keep his writing career alive.
Before the stolen book is published, Dennis receives warnings to not allow the book to be released. Dennis is not frightened. Would anyone really believe that a bestselling author would ever need to steal someone else's work? After the book is released, Dennis is confronted at a signing by Cillian Reed, who used to be his biggest fan. Cillian doesn't publicly reveal Dennis' secret, preferring to torment Dennis in other ways, like pulling pranks that aren't particularly funny.
Dennis launches his own investigation into Cillian's past. When he finds out the Cillian died in car accident several years ago, he begins to doubt his sanity. Could not dealing with his grief over Lucy's death have caused this? Or is there a supernatural force at work?
Thrasher skillfully blends action, mystery and suspense as he takes readers on a supernatural thrill ride. Much of the violence is implied, meaning the kills happen offstage. Thrasher's descriptions of either what happens just before or just after those moments ramps the tension up, making it hard to want to put the book down. What Thrasher leaves to the reader's imagination is what's truly frightening. And as for the balance of "Christian" versus "horror," I actually found myself wanting a little more of the former by the story's end. The ending would have worked better for me had Thrasher gone a bit farther in terms of Dennis seeking redemption for stealing Cillian's manuscript.
And just so we're clear, Travis Thrasher does write horror. If you can't find Ghostwriter in the horror section of your local bookstore, take the time to locate it wherever it's shelved.
Purchase Ghostwriter by Travis Thrasher.
Posted
on Thursday, November 26, 2009 at 10:21AM
by

Dark Scribe Magazine
in Book Reviews
| Comments Off

View Printer Friendly Version

Email Article to Friend