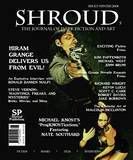 from Shroud Magazine #5 / Winter 2009
Reviewed by: Anthony J. Rapino
Anyone who has ever fantasized about having a threesome has likely also considered the possible outcomes of such an act. When Jeff's girlfriend, Brooke, suggests they go to a brothel, predictably his initial reaction is one of glee.
It isn't until they are driving to the Bunny Hop Ranch that Jeff considers the possible reasons for – and consequences of – Brooke's arrangement. Does she want to leave him for someone else? Is she dissatisfied with him and craving a more substantially endowed lover? Amazingly, he even considers the coming experience as a gift for Brooke that he must endure, a way to satisfy her without losing her. Pushing these thoughts aside, Jeff convinces himself that even if this fantasy was Brooke's idea, there's no harm in enjoying it as well.
Upon arrival, they meet Brooke's chosen prostitute, Xilomen. Jeff is amazed by her beauty and can see why Brooke selected her. But as they retreat to their room, it soon becomes clear that there is one far stranger consequence to this fantasy that Jeff never considered.
Like a good whisky, West's prose goes down smooth and fiery all at once. Never does one stumble across awkward phrasing in this purposeful story, making the execution and final reveal all the sweeter. And even as the atmosphere changes and horror sets in, the shift is never forced. When your copy of Shroud arrives, turn first to West's "For Her," and start the issue out right.
Purchase Shroud Magazine #5 with "For Her" by Michael West.
Posted
on Wednesday, September 9, 2009 at 04:21PM
by

Dark Scribe Magazine
in Short Fiction Reviews
| Comments Off

View Printer Friendly Version

Email Article to Friend