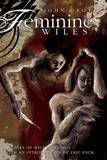 Blu Phi'er Publishing / March 2009
Reviewed by: Vince A. Liaguno
The notion of women as victims in the horror genre is as commonplace a cliché as the deranged redneck or the debonair vampire. So props to John Grover right off the bat for infusing some much-needed female empowerment into the mix with Feminine Wiles, a collection of sixteen short stories in which damsels become devils, victims become villains, and ladies become lethal. There are no cowering wallflowers or wide-eyed virgins to be found here – only wicked women hell-bent on wrecking havoc on their (mainly) male counterparts.
The female baddies here run the gamut from horror tropes (witches, spider women, melodious muses, Medusa-like gals who can turn a man to stone) to genuine innovation (well monsters with maternal instincts, a resurrected Mayan queen who gives new definition to the idea of toxic dust, and Wiccan-worshipping lesbians out for matrimonial revenge – that may just bring back memories of Dynasty's infamous Moldavian Massacre back in the 80's for those old enough to remember the heydays of TV camp).
Standouts in the collection include "The Bride Wore Red" (the aforementioned lesbian revenge tale that screams Tarantino), "Excavation" (the risen Mayan queen tale), and "No Man's Land, a clever take on the wayward traveler tale involving a stranded motorist and creepy triplets that calls to mind the Grand Guignol 70's spectacle of Terror at Red Wolf Inn. Also noteworthy is the shortest piece in the collection, "Playing with Dolls", which evokes the Dad-took-away-my-comic-books connecting narrative from Creepshow.
But while Grover nobly attempts to free the female horror figure from her clichéd chains, he also reinforces a few stereotypes along the way – particularly in the case of physical attributes. At least half of the lady killers here are described in full-on romance novel cliché – long black/red/blond hair, slender/sumptuous curves, ample/full breasts, sensuous/alluring/piercing eyes, full red lips, flowing robes/dresses/gowns. As a result, Grover misses more than one opportunity to craft distinctive, three-dimensional villainous women, instead presenting the literary equivalent of Barbie dolls with really bad attitudes.
Grover's stories – while respectably competent in their overall execution – are overwrought at times with metaphor and generally lacking in narrative adventurousness. Only "The Bride Wore Red" strays from his formula here, beginning at the end and ending at the beginning. Otherwise, it's a basic story structure employed throughout much of the collection: Male/two males enter setting (old house/sewer/ attic/dark forest), encounter villainess who explains her origin, succumbs to/defeats villainess, hint that story's not quite over. End credits.
As a whole, the collection feels like a half-baked pie, leaving the reader with the idea that another 20 minutes in the oven would have browned the crust a bit more, cooked the ingredients all the way through. Thankfully, there are enough tasty bites ("No Man's Land", "Playing with Dolls", "Excavation", and "The Bride Wore Red") amongst the undercooked bits to keep it all down without suffering from literary reflux.
Purchase Feminine Wiles by John Grover.
Posted
on Thursday, September 10, 2009 at 09:00AM
by

Dark Scribe Magazine
in Single-Author Fiction Collections
| Comments Off

View Printer Friendly Version

Email Article to Friend