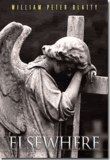 Cemetery Dance / Forthcoming 2009
Reviewed by: Blu Gilliand
Echoes of Shirley Jackson's seminal classic The Haunting of Hill House can be heard throughout Elsewhere, a short William Peter Blatty novel that was originally published in the anthology 999 and appears now for the first time as a standalone edition from Cemetery Dance. There's an isolated house with a past veiled in tragedy, a group of four individuals – believers and non-believers alike – coming together to investigate the house, and plenty of strange noises in the night. In the beginning, the similarities are enough to give Blatty's novel the feel of a remake, that hottest of Hollywood horror trends. But soon enough events begin to take different turns, and while we do tread in some familiar territory, there's definitely no need for Shirley Jackson's estate to begin sharpening their knives.
Ambitious real estate agent Joan Freeboard is offered triple commission if she can somehow sell Elsewhere, an abandoned island mansion near Manhattan. To pave the way for a sale, she decides to first debunk the house's haunted reputation. She enlists her close friend, Pulitzer Prize-winning author Terence Dare, to spend a few days in the mansion documenting the investigations of psychic Anna Trawley and NYU researcher Dr. Gabriel Case. And, just to ensure the high visibility of the investigation, she sleeps with a Vanity Fair editor in exchange for publication of Dare's article.
The group takes a ferry to Elsewhere, arriving in the midst of a driving rainstorm that never really lets up. The rain is just the first trick Blatty uses to cultivate Elsewhere's oppressive atmosphere, adding a television that shows only static and phone calls that never seem to connect for good measure. It's not long before odd booming sounds begin to echo up and down the mansion's halls and fleeting glimpses of ethereal strangers are caught around corners.
None of these incidents are new to anyone who's heard or read a haunted house story, but Blatty uses them expertly to slowly tighten the screws on the secluded group — as well as the reader. We quickly begin to form a picture of what might be happening, yet Blatty's skillful misdirection keeps us guessing. Without giving away the final revelation, it's fair to acknowledge that it's one readers have seen before. Yet – to Blatty's credit – this reader was never able to decide for sure that this was the ending he was going to get. Elsewhere is built on a familiar premise and a somewhat predictable outcome, and yet it still manages to keep you questioning things up to the end.
This is a short, fast-paced novel, but Blatty takes time to flesh out the characters enough to keep readers invested in their fate. While not in the same league of The Haunting of Hill House or The Shining, it's a good, solid haunted house tale. If you missed it in 999, it would be worth your while to pick it up.
Pre-order Elsewhere by William Peter Blatty.
Posted
on Wednesday, December 24, 2008 at 09:49AM
by

Dark Scribe Magazine
in Small Press Chills
| Comments Off

View Printer Friendly Version

Email Article to Friend