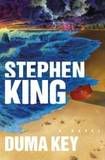 Scribner / January 2008
Reviewed by: Blu Gilliand
One piece of advice most writers hear at some point in their career goes: "Write what you know."
Stephen King knows art. He knows pain. And he knows how the two sometimes go hand-in-hand. It's a relationship he's explored numerous times, through many vivid characters: Mike Noonan, the haunted author of Bag of Bones; Paul Sheldon, the captive writer of Misery; even Stephen King, the author of the Dark Tower books as he appeared in later entries of that series.
Edgar Freemantle, the central figure in King's latest novel, Duma Key, is not a writer. As the book begins, he's not an artist at all – he's a self-made millionaire who still brings a lunch pail to the construction sites bearing his company's name. A horrific accident takes Edgar's arm, a good chunk of his memory, and eventually his wife, leaving him with violent mood swings and a serious need to, as his doctor says, build some "hedges against the night."
For Edgar, those hedges come in the form of relocation to an isolated Florida isle called Duma Key, and in the rediscovery of his nearly-forgotten talent for painting. Edgar takes residence in a house he soon dubs "Big Pink," an ocean-side retreat that, according to local legend, has hosted writers, poets and painters from the obscure to the famous. Whether the island, and the malevolent forces that gather along its shores like thunderclouds, feeds creativity or feeds off of it is one of the many mysteries that soon overtake Edgar's new life.
King's greatest strength has always been his ability to create characters that seem to live and breathe independent of the page. In Freemantle, as well as his Florida neighbors Elizabeth Eastlake and Wireman, King has once again given readers characters to care about, root for and mourn. And while his plots sometimes stretch thin enough to see through, he retains the ability to invoke pure white-knuckle terror with set pieces as simple as a suspiciously unlocked door, or the quiet grinding of shells caught in the tide.
Just as Freemantle seeks a kind of healing through his art, Duma Key is another step in the healing process for King, who continues to use his work to filter the infamous roadside accident that almost killed him nearly a decade ago. This novel finds the master back at full strength, continuing to knit his more literary sensibilities to the chills and thrills that have made him a household name. For anyone who's been missing "vintage" King, the word slinger who made rabid dogs and possessed cars the stuff of well-written nightmares, here he is. Like he never went away.
Purchase Stephen King's Duma Key.
Posted
on Tuesday, March 11, 2008 at 10:32AM
by

Dark Scribe Magazine
in Book Reviews
| Comments Off

View Printer Friendly Version

Email Article to Friend