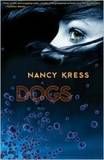 Tachyon Publications / July 2008
Reviewed by: Michele Lee
Billed as part Cujo, part Andromeda Strain, Dogs is a modern-day science fiction/horror hybrid that couples America's love of dogs with biological terrorism. Told in straightforward, unadorned prose, Dogs follows, among others, Tessa, a woman who left the FBI after the death of her husband, due in part because her career had suffered from the bureau's prejudice toward her husband's Arab ethnicity. Tessa moves to Tyler, a small town outside of Washington D.C., with no clear idea on how to move on with her life after tragedy and disappointment.
The one impulsive move Tessa makes is getting a dog - a miniature poodle named Minette, whose mindless love seems to be the only good thing in Tessa's life. Her plans from there are vague and aimless, until a series of violent and deadly dog attacks - all within a small space of time - alert the town to the presence of a canine disease that will tear their world apart.
Thrust into the middle of a whole town of dogs suddenly turning on their owners, Tessa and down-to-earth good guy Jess, one of the town's few animal control officers, team up in the overwhelming task of rounding up all the dogs in Tyler. That is until Tessa begins receiving strange, threatening emails originally meant for her husband from a person who seems to know exactly where the plague came from. While Tessa embarks on a quest to clear her name, and the name of her dead husband, Jess has to fight newly-born militias (one determined to kill all the dogs, one determined to save the uninfected), multiple governmental agencies vying for control of the disaster, and the dogs themselves in a town gone mad.
Aside from being a multi-faceted story of the human love (or hate) for our canine companions, the most striking element at play here is that very few of the players know that they're in the throes of bioterrorism. Most of the characters choose their paths - many of which will change their lives forever - based on wild guesses and fear. Readers get the feeling that they're spying directly into the characters' lives and minds. Some are so ordinary that in the scope of the story they have only one moment of importance. With real world authenticity, some players never even realize their affect on the story unfolding around them because their motives are simple and pure, their actions mere side effects.
Dogs is a solid read and hard to put down. Despite the dark and gory potential of the situation, Kress doesn't delve fully into hardcore horror, preferring instead to present an idea, much like the idea of science gone wrong in Michael Crichton's genetic thriller Jurassic Park, and let the reader imagine the lasting depth of the terror for themselves.
Purchase Dogs by Nancy Kress.
Posted
on Thursday, August 7, 2008 at 10:44AM
by

Dark Scribe Magazine
in Book Reviews
| Comments Off

View Printer Friendly Version

Email Article to Friend