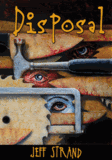 Biting Dog Press / November 2007
Reviewed by: Blu Gilliand
Based on the sheer number of forwards that stack the front of Disposal, Jeff Strand's new novella from Biting Dog Press, the author has a lot of friends in the business. Based on the content of those forwards, he's made a lot of enemies. Either that, or he's surrounded himself with people who share the same dark, caustic sense of humor that suffuses his work.
I'm betting on the latter. Until Disposal, I'd never seen a book with ten forwards; after reading them all, I'm sure I've never enjoyed any single forward a much as I did this group. Respected writers such as Brian Keene, James A. Moore, and Christopher Golden take great delight in dragging Jeff Strand's good name and considerable talent through the mud, all with tongues planted firmly in cheeks. It's an absolutely genius way to set the tone for the story that follows.
Disposal centers around Frank, a gleefully arrogant petty thief who targets places like comic shops and delis because they typically don't have security cameras. One night, as he's holding up a 24-hour laundromat, the clerk asks him two questions: One, has Frank ever killed anyone? And two, would he mind very much coming by her place and killing her husband? Frank readily agrees, after getting the woman to agree to a particularly salacious payoff, only to find upon arriving at her home that the job has already been done.
If this sounds like a straight-up crime drama with a dash of whodunit thrown in for good measure, keep reading. Because once the corpse starts breathing again, this simple story – not to mention Frank's night – gets turned completely upside-down.
There's a lot of humor in Disposal, but make no mistake – it is of the pitch-black variety. Still, Frank is such a convincing character – arrogant, cocksure, the kind of guy you hate and admire at the same time – that the absurdity of the events never yank the reader out of the story.
There are a few places, particularly toward the end, where the book teeters perilously close to going too far over the top, but Strand's strong characterization of Frank usually manages to rein things in. The book clocks in at around a hundred pages (including several black-and-white illustrations by cover artist Keith Minnion, and, of course, those hysterical forwards), and is a lean, fast read. If you haven't read Strand before, or would like to see him at the top of his game, give Disposal a shot.
Purchase Jeff Strand's Disposal.
Posted
on Tuesday, December 4, 2007 at 11:14AM
by

Dark Scribe Magazine
in Small Press Chills
| Comments Off

View Printer Friendly Version

Email Article to Friend