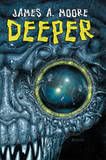 Necessary Evil Press / January 2008
Reviewed by: Jeff Burk
Black Quill Award-winner James A. Moore (The Haunted Forest Tour, Bloodstained Oz) has repeatedly proven he can write brutal novels guaranteed to keep one reading long into the night. His latest is Deeper, a Lovecraftian adventure of sea monsters and ghost ships. Moore has once again given us a blood-soaked nail biter, just a few tentacles short of being a classic.
Joe Bierden makes his living on the ocean as a professional boat guide, hiring out his boat and crew to take others out onto the water. He is hired at the end of tourist season by a college professor to take him and a team of his students out to investigate rumors of ghosts and sea monsters at Golden Cove, an old decaying seaside town formally known as Innsmouth. Accompanied by a pair of famous parapsychologists and the professor's beautiful assistant who doubles as the expedition's chief diver, the group discovers more than it could have ever imagined, and Bierden finds everything he cares about at risk.
Moore writes the novel from Bierden's point of view and does a fantastic job getting into the character's head. Bierden is rendered so three-dimensionally that the reader can often foresee what actions he will take as the story develops - not from any sense of predictability on the part of Moore's narrative but from how well the reader comes to understand Bierden himself. As the story progresses and Joe's situation becomes even direr, the reader experiences his pain and fear.
While the book is well-written and undeniably exciting, it never fully delivers the all-out horror assault that Moore flirts with throughout the book. Cults, ghosts, and monsters enter and leave the story with abandon, keeping up a brisk pace, but none of these numerous horror elements are satisfactorily explored. Had Moore given more attention to tying together the various concepts and creatures he introduces throughout, the book would have been a much more satisfying read.
Moore has written a novel sure to appeal to fans of Lovecraft and sea-monsters, one that falls just short of setting a new standard. Deeper is pulp fiction at its most exciting, but it's Moore's talented writing style that raises the novel above just another forgettable monster-romp. For those looking for a few hours of escapism, prepare to set sail because Moore has a thrilling voyage in store.
Purchase James A. Moore's Deeper.
Posted
on Friday, February 29, 2008 at 02:34PM
by

Dark Scribe Magazine
in Small Press Chills
| Comments Off

View Printer Friendly Version

Email Article to Friend