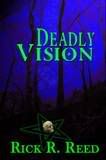 Quest Books / January 2008
Reviewed by: Vince A. Liaguno
Hot on the heels of his enjoyable gay serial killer novel – last year's IM – Rick Reed returns with another gripping thriller, Deadly Vision. Reed is quickly developing his own unique formula that blends suspense, fast-moving narratives, fully-realized gay characters, and a touch of the occult. His seeming bid to become a gay hybrid of James Patterson and Dean Koontz will not be lost on readers with this latest offering.
Cass D'Angelo, single mother to seven-year-old Max, is toiling away as a waitress in a small, depressed river town in Ohio. When Cass goes off after Max when he wanders off one afternoon during a thunderstorm, she runs afoul of a lightning strike and a falling tree limb. She awakens days later in the hospital – relieved to find Max safe – and discovers that the resulting concussion has left her with a newfound psychic ability. Before you can say Psychic Friends Network, Cass receives disturbing images of several local girls gone missing – their grisly fates playing out behind her mind's eye. Fearing more deaths, the reluctant psychic reaches out to the police and to one of the missing girl's parents – all of whom are skeptical. But when the father of a second missing girl begs Cass' help in finding his daughter and her decomposing body is found along the Ohio River banks, Cass finds herself the center of unwanted attention from a pair of devil-worshipping killers desperate to find out how she found their carefully hidden grave. It's here that the story kicks into even higher gear with a kidnapping, a manhunt, and – to a lesser extent - hints of a budding romance with a sympathetic female journalist.
As in IM, Reed again opts to tell his story through multiple points of view. And, again, it works surprisingly well even when minor characters like Cass' mother get their chance at the storytelling bat. Laying out the actions and motives of your villains for readers is a tricky proposition - give too much and risk predictability at the expense of the suspense. But Reed expertly walks the tightrope between disclosure and omission, crafting passages told from the killers' perspective that are appropriately chilling and give just enough away to readers so that their acquired insight translates into dread when the action switches back to Cass and company. It's foreboding at it s finest with readers left muttering, "If you only knew what I know" at the book itself.
Reed also imbues Deadly Vision with a strong sense of setting, creating in Summitville a bleak tableau of working class hardship. One gets a strong sense of inevitability for the fictional denizens of the town, like they surrendered master status of their own destinies somewhere between unplanned pregnancies and factory closings. He nails the idea of familiarity and disconnection as analogous functions of small-town life:
When Sheryl McKenna's mother opened the door, Cass felt as though she had already seen her. And maybe she had. Summitville was, after all, a small town. She could have passed the tired-looking woman on the street downtown, or served her in the diner. The woman stared at her with bright gray eyes, looking her over as if Cass were something she had discarded in the yard that had managed to make its way back to the porch. Mrs. McKenna was small, with no fat on her bones; she looked almost skeletal. Her skin was weathered, the result of too much sun, too much smoke. Her skin, combined with straw-like bleached blonde hair and hard eyes made her, Cass was sure, look older than her years. She held a cigarette in her hand, and the smell of tobacco smoke came out of the house in a wave when she opened the door.
Unlike IM, the lesbian romance is relegated to the background here, never even a glimmer of possibility until the third act - and even then it's only alluded to in a near future. This is the novel's only misstep – and a slight one at that – and an area where Reed missed an opportunity for deeper emotional investment in the reporter character of Dani Westwood. The lack of romantic connection to Cass keeps her at arm's length for much of the action, consigning her to stock character status.
The novel's supernatural elements are handled quite well, with Cass' understanding of her precognitive abilities evolving gradually over the course of the book and never coming off as forced or over-the-top. Only toward the end when Cass encounters the spectral vision of one of the victims does one get the sense that they're smack dab in the middle of an episode of Cold Case or The Ghost Whisperer – and that's either criticism or commendation depending upon your level of tolerance for either of those shows.
The literary equivalent of a hybrid vehicle, Deadly Vision powers forward on a combustion of supernatural suspense, murder mystery, and breakneck thriller. With psychics and serial killers rendered with the same deft hand in a propulsive narrative likely to increase respirations, it takes no psychic ability to see that Rick Reed is headed for the top of the suspense class.
Purchase Rick R. Reed's Deadly Vision.
Posted
on Wednesday, February 27, 2008 at 03:36PM
by

Dark Scribe Magazine
in Small Press Chills
| Comments Off

View Printer Friendly Version

Email Article to Friend