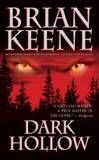 Leisure Books / January 2008
Reviewed by: Jeff Burk
Six months following the release of his last Leisure offering – 2007's Dead Sea - Brian Keene returns with Dark Hollow. In this paperback reprint of The Rutting Season, readers find Keene once again breaking away from the zombie yarns he is so well associated with and instead weaving an emotional horror drama more in the vein of Terminal and Ghoul.
There have long been stories of ghosts and monsters inhabiting the Pennsylvania woods around LeHorn's Hollow. None of the locals have paid much mind to the tales – that is until a strange, hypnotic music begins emanating from the woods and induces bizarre sexual behavior in the townsfolk and the women start to disappear. When local writer Adam Senft's wife begins to fall under the wood's strange spell, he sets out to stop it before he loses woman he loves.
Dark Hollow's sense of horror manifests itself from the strong sexual grip the wood's dark forces hold over the characters. Throughout the novel, Adam's fears of sexual inadequacy and anxieties over childbirth are exploited by this energy, creating a story that balances personal drama with the supernatural. Keene knows how to torment his characters, and it will be a cold-hearted reader who won't feel for Adam's plight.
Despite the new mass-market facelift, savvy readers will be able to tell that this novel was written earlier in Keene's career. Characters speak in an overly obvious manner at times, often explaining plot to the reader rather than telling the story through action and their interaction with each other. At several points near the end, there are some nagging coincidences that come across as a little too convenient to maintain continuous credibility. Fortunately, these intermittent flaws are easy to overlook due to the overwhelming strength of other aspects of the novel – including its strong sense of setting and atmosphere.
Dark Hollow is another frightening entry in Brian Keene's already impressive arsenal. The book deftly combines emotional terror and grisly gore with Keene's immensely readable prose to create a gripping novel sure to please longtime fans and new readers alike. At the very least, Dark Hollow will leave readers satiated enough for the next six-month stretch.
Purchase Brian Keene's Dark Hollow.
Posted
on Monday, February 18, 2008 at 07:40AM
by

Dark Scribe Magazine
in Book Reviews
| Comments Off

View Printer Friendly Version

Email Article to Friend