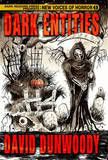 Dark Regions Press / September 2009
Reviewed by: Michele Lee
Dark Regions Press kicks off its New Voices of Horror series with a strong – and rotting – foot with this collection of tales from David Dunwoody. It's clear from line one that Dunwoody knows what he's doing when it comes to writing good fiction. Inside these pages we see every kind of savage inhuman monster, from the zombies Dunwoody is known for, to demons, werewolves, and things that have no explanation — even in the horror realm.
Dunwoody clearly has a firm handle on pacing, prose and imagination. If any criticism can be made at all it's that his vision of horror is too close to the brutal and gory approach of Edward Lee and Wrath James White, stylings which can be difficult to handle and which some would argue don't add to the genre.
But even when Dunwoody uses familiar tropes – such as the popular zombie – the story is far from the median one finds in horror fiction. "Brownlee's Blue Flame", for example, doesn't bother with the zombie uprising at all, but instead follows Death himself as he learns of the unnatural existence of the undead. In "Sunset", also a zombie tale, the locale is an exotic and heavenly island filled with people cursed with a devilish hunger for six months out of the year, but the zombie aspect very nearly takes a back seat to the marital problems between the main character and his wife. "The Abbot and The Dragon", another zombie story, is a mash-up of genres, with a horror ending, a fantasy tone, and a science fiction explanation.
Things aren't perfect in Dark Entities. Dunwoody seems to be exploring his own view of horror as much as readers are there to experience it. There are moments of hesitation in the stories, and Dunwoody does stick to the flashy-gory-violent horror bestiary. But there's a payoff to each story, and an excitement for lovers of all kinds of horror in watching Dunwoody flex his burgeoning literary skill.
Purchase Dark Entities by David Dunwoody.
Posted
on Wednesday, September 9, 2009 at 04:08PM
by

Dark Scribe Magazine
in Small Press Chills
| Comments Off

View Printer Friendly Version

Email Article to Friend