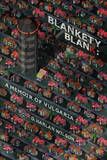 Raw Dog Screaming Press / January 2009
Reviewed by: Martel Sardina

What is "bizarro" fiction? I've been wondering what the answer to that question is since the first time I heard the term while sitting next to the people who run Eraserhead Press back at the 2008 World Horror Convention.
According to the folks at Bizarro Central, "bizarro" is the genre of the weird. Literature's equivalent to the cult section at the video store. Bizarro authors strive to write fascinating, thought-provoking stories that are above all, fun to read.
Evaluating D. Harlan Wilson's Blankety Blank: A Memoir of Vulgaria based on the above statement is easy. He has successfully met the genre's expectations.
Evaluating Wilson's work in the manner that I generally would, has thrown me for a loop.
If I were writing a "normal" review, the first thing I'd have to take Wilson to task for is creating characters that are believable. While there are many interesting events occurring, I found it hard to care about the characters and why they were doing what they were doing. The book is filled with characters that have no redeeming social value. My second criticism would be about the plot (or lack thereof). This book reminded me of the TV show Seinfeld, quirky characters, interesting events, but at the end of the day, really was a show about nothing.
Throughout the novel, the reader is subjected to Wilson's digressions on a variety on subjects. From the history of the werewolf to statistics on bullying to quotations to haiku poetry. These digressions were often entertaining. How often can you say that you learned how to make a shrunken head in the course of reading a work of fiction? While Wilson's observations and essays are informative, I submit, dear reader, that you may be dealing with an unreliable narrator. Consider yourself warned.
If I were writing a "normal" review, I would probably not recommend that anyone read this book. In the real world, Wilson's idea of storytelling just doesn't work. A "normal" reader would not stand for the sheer number of viewpoint shifts that occur nor being forced to read a page and a half of the phrase "blankety blank" typed numerous times. However, I'm not writing a "normal" review. I'm writing a "bizarro" review.
If you are the type of reader who can open your mind to alternate histories, worlds where absurdity becomes reality, and stories that know no limits, I'd encourage you to give Wilson's work a try. Whether you wind up loving it or hating it, the experience of reading him once is well worth the price of admission.
Purchase Blankety Blank: A Memoir of Vulgaria by D. Harlan Wilson.
Posted
on Monday, May 11, 2009 at 06:56AM
by

Dark Scribe Magazine
in Small Press Chills
| Comments Off

View Printer Friendly Version

Email Article to Friend