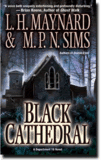 Leisure Books / January 2009
Reviewed by: Joan Turner
Black Cathedral, the third Leisure novel and the best to date by the long time writing duo of Len Maynard and Mick Simms, is a fast-paced, exciting ride that will keep readers turning pages until the end.
An atmospheric and character rich ghost story, Black Cathedral introduces Department 18, a special unit of the British government dealing with paranormal activities, and its members as they work to solve the strange disappearances on Kulsay, an island off the Scottish coast. A group of mid-management employees from Waincraft Software have gone missing while on a weeklong team building course on the island as well as the pilot and helicopter sent to rescue them. Not a clue to their whereabouts or the helicopter's wreckage has been found.
A private company with a secret interest in the outcome finances the investigation.
Led by Jane Talbot, a woman whose marriage and personal life have come unraveled, the team includes four sensitives with special skills. One of the members, brilliant but troubled Robert Carver, is a man Talbot has romantic ties with from the past. Carver is a loner whose assistant also mysteriously disappeared on his last investigation and he has reason to believe the two cases are linked.
The team sets up shop in the ancient manse on the desolate island, and soon afterward strange psychic phenomenon begins. By the next morning, the situation has deteriorated into violent manifestations that leave one team member dead and Talbot missing. With contact with the outside world cut off, those remaining are left on their own to confront whatever horror awaits them.
In a story involving the eternal struggle between good and evil, an ancient evil rises to unleash devastation upon those who stand in its way.
Calling to mind Shirley Jackson's The Haunting of Hill House and Anne Rivers Siddon's The House Next Door, The Black Cathedral is a delicious and chilling treat for ghost story aficionados, proving once again that good horror fiction depends more on good storytelling than copious amounts of gore.
Despite a few clichés, Maynard and Sims succeed in delivering a riveting story, providing enough twists and turns in this well paced tale to keep the reader in suspense until the final breathtaking confrontation.
The authors have been a writing team for the past thirty-five years. They edited and published the anthology Enigmatic Tales as well as Darkness Rising. They have written numerous short stories and their latest collection, Falling into Heaven, was released in 2004. Previous Leisure novels include Shelter and Demon Eyes.
Black Cathedral is an impressive first novel in the Department 18 series. Well written and satisfying, it ranks as one of the best literary horror novels of the year to date.
Purchase Black Cathedral by Maynard & Sims.
Posted
on Tuesday, July 7, 2009 at 02:00PM
by

Dark Scribe Magazine
in Book Reviews
| Comments Off

View Printer Friendly Version

Email Article to Friend