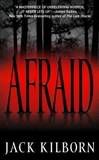 Grand Central Publishing / March 2009
Reviewed by: Martel Sardina

Not long ago, this reviewer decided that it was time to face her fear of the Zuni fetish doll from the 1975 film, Trilogy of Terror. While the jury is out on whether or not that was a wise decision, the DVD did contain an interview with Richard Matheson which I decided to watch to see if I could learn something about the craft of writing from one of my literary heroes. Instead of being enamored with Matheson's commentary, I found myself a bit angry with Matheson for claiming to write "terror" versus "horror." It's bad enough when people outside the genre turn up their noses at the term horror; I was not expecting it from one of my own.
After reading Jack Kilborn's Afraid, this reviewer now understands what Matheson meant by his statement. "Terror" stories induce fear. "Horror" stories induce not only fear, but also shock and disgust. Kilborn's title implies that his novel is a work of terror. While there are moments of terror, especially in the opening chapter, be assured that it isn't. Unleashing five Hannibal Lectors with Rambo training and transhuman modifications on an isolated town in Northern Wisconsin can't result in fear alone. If it did, Kilborn would have wasted a great premise. Kilborn's audacious choice to give readers not one, but five over-the-top villains sealed this book's fate to be deemed horror through and through.
There are so many things Kilborn does right in terms of craft. This reviewer particularly enjoyed the seamless transitions when Kilborn shifted viewpoint characters. The story unfolds at a fairly fast pace. Kilborn doles out details and backstory only when strictly necessary, which successfully keeps the reader turning pages. It's hard to find a breaking point when you need one, Kilborn doesn't want readers to put this book down.
The fast pace makes it very easy for readers to get caught up in the action. So much so, in fact, that after this reviewer finished, I realized that while I was reading I wasn't concerned about analyzing the plausibility of the characters' actions and motivations. However, given time to really think about it, I may have to take Kilborn to task for some of the events that occurred. But those who read for the escapism should have no qualms with Kilborn's talent as an entertainer.
Some readers may wonder why they haven't heard seen much in the way of fiction from Jack Kilborn before. They have, but from the pen of his alter ego, acclaimed mystery writer, J.A. Konrath. Horror fans may also like Konrath's Lt. Jack Daniels series about a Chicago cop who chases serial killers. It will be interesting to see whether or not his mystery fans have the fortitude to withstand the level of graphic violence and gore that Jack Kilborn is sure to become renowned for.
Purchase Afraid by Jack Kilborn.
Posted
on Sunday, February 8, 2009 at 10:31AM
by

Dark Scribe Magazine
in Book Reviews
|

Post a Comment

View Printer Friendly Version

Email Article to Friend