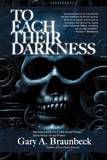 Apex Publications / December 2010
Reviewed by Daniel R. Robichaud
Gary A. Braunbeck's second foray into book-length nonfiction, To Each Their Darkness, is a complex work that is at once a memoir, a reflection upon the writer's craft, a review of the highs and lows of horror entertainment, and a call to action for creators of dark fiction. While this book might easily lose its way trying to cover so much ground, Braunbeck's capable prose and emotional honesty hold the book together. The result is both thoughtful and provocative.
This volume owes quite a debt to Braunbeck's Fear in a Handful of Dust: Horror as a Way of Life (Betancourt & Company, 2004). In fact, Braunbeck reprints much of that book's material here. The author is quite upfront about this, elucidating the rationale behind revisiting his early work and the differences between the two texts through five humorous and self-effacing introductory explanations. In brief, Braunbeck views the current book as a variation on a theme, an attempt to better express the points the previous volume approached but missed. As Fear in a Handful of Dust was an expensive hardcover, Apex Publishing's reasonably priced trade paperback is a welcome edition.
However, To Each Their Darkness is not a lightly revised and minimally expanded variant on Fear. This book offers new material, including intros and afterwards (for works by Mort Castle, Glen Hirschberg, Fran Friel, etcetera), some musing on film adaptations, and a heartfelt tribute to horror fiction legend J. N. Williamson. In addition, readers will find plenty of erudite analysis of other writers' works, the current faltering state of horror fiction, and Braunbeck's high hopes for the field.
This book's central argument is one of self analysis: without understanding the darkest parts of one's own life, the book argues one cannot create something truly horrifying. Going one step further, the book turns Douglas Winter's infamous speech equating horror with emotion on its ear, stating horror is not an emotion at all, but a byproduct of other feelings. Thus, the Braunbeckian ideology of horror calls for a complex tapestry of emotions, responses, and relationships. Only through well drawn characters, can fear be communicated.
A book of this nature can be viewed in two wildly divergent ways: it is either a smorgasbord of encyclopedic knowledge and analysis about the honest value of horror entertainment as seen through one fan and creator's life and work, or it is a self-indulgent attempt to establish the importance of personal hobby horses to an indifferent world. I side with the former way of thinking, while accepting the existence of a vocal contingent for the latter: to each their opinion. These are the same responses granted to any work wherein writers grapple with the juxtaposition of fiction, film, and life, including Harlan Ellison's The Glass Teat, The Other Glass Teat, and Harlan Ellison's Watching, Stephen King's On Writing and Danse Macabre, David J. Schow's Wild Hairs, Joyce Carol Oates' Faith of the Writer and In Rough Country, and Larry McMurtry's In a Shallow Grave; To Each Their Darkness comfortably stands in these titles' company.
When the book works best, it draws together autobiography, film criticism, an aesthetic vision, and gallows humor to portray Braunbeck's own life and reflect upon this life as a source for the terrors populating his fiction. Stories, whether told through prose or pictures, do not exist in a vacuum — the better tales draw upon personal experience while responding to stories that came before and inspiring those that follow. Just as Godard could criticize a film by making another film, authors contribute to a grand conversation with each novel or short story they write. In its successful sequences, To Each Their Darkness shows one creator's process for contributing his individual voice to that ongoing discussion. Though it leaves little room for popcorn escapism – save for a cheeky introduction to Ray Garton's 'Nids and Other Stories, which feels oddly out of place here – these passages offer the clearest call for creators to aspire for larger things than yet another zombie-apocalypse or simplistic vampire tale.
Like the best of Braunbeck's fiction, To Each Their Darkness is intensely personal. As such, it won't be to everyone's liking, but this is a book that neither requires nor desires blind devotion. It is a curiosity, a puzzle that is at once illuminating and frustrating and confrontational but always engaging.
Readers who have not read Fear in a Handful of Dust: Horror as a Way of Life will find much to think about. Those familiar with that volume may be disappointed by the ratio of reprinted material to new, but in any form, this volume's ideas are well worth revisiting.
Purchase To Each Their Darkness by Gary A. Braunbeck.
Posted
on Tuesday, March 22, 2011 at 08:41AM
by

Dark Scribe Magazine
in Non-Fiction Reviews
| Comments Off
|

Email
|

Print
Viking / July 2010
Reviewed by: Martel Sardina
Faithful Place made this reviewer's short list of "must reads." After reading, French's first two offerings in her series about the Dublin murder squad, the bar was set high for book number three.
French's mystery series is different than most because it is the setting that binds the series together versus following the same character over the course of several books. In each of the books, French tells her story through the eyes of a different protagonist. The books work well as standalones. There is not much overlap in terms of characters and backstory from one book to the next. The common thread linking them all is the connection to the Dublin murder squad.
In French's second book, The Likeness, readers are introduced to the character Frank Mackey. He is in charge of the Undercover assignment that Detective Cassie Maddox has been recruited for. In Faithful Place, readers are given the opportunity to get to know Frank better. The story French tells this time around, explains an awful lot about how Frank Mackey became the kind of man and kind of cop that would be willing to do the things that he's done.
Frank left Faithful Place, his childhood home, more than twenty years ago. He'd meant to escape an abusive household by eloping with his sweetheart, Rosie Daley. When Rosie didn't show up at their rendezvous point, Frank incorrectly assumed that she abandoned him and ran off to England on her own. Though devastated by the breakup, the thought of staying with his family and being forced into a factory job like his father was unbearable. Frank followed through on his plan to leave and never look back. For more than twenty years, he's done a good job of staying gone.
Frank's sister calls to tell him that Rosie's suitcase was found when one of the new neighbors decided to remodel their home. Frank drops everything and comes back hopeful that the discovery might turn up clues about what happened that night. Later, when Rosie's body is discovered, Frank is devastated all other again. She didn't abandon him. She was murdered. Frank's not sure which ending is worse. He vows to find out who killed Rosie Daly. But will that knowledge bring him peace?
There is much to like about French's writing style, the characters she's created and her insights into dysfunctional people. Her prose comes alive. Her dialogue is spot on. Where Faithful Place fell short for this reviewer was the mystery of "whodunit?" I knew who the "bad guy" was very early on. That did not keep me from finishing Faithful Place, but it was a bit of a let down in comparison to French's first two books, where the "whodunit?" was not as easily solved.
Overall, Faithful Place is an enjoyable read. Those who have read and liked her other books should enjoy this one as well. While the books can be read out of sequence, those who are new to the series may want to start at the beginning with In the Woods, to see how the puzzle pieces fit together since French has chosen a different way to bind the books together over time.
Purchase Faithful Place by Tana French.
Posted
on Tuesday, March 22, 2011 at 08:19AM
by

Dark Scribe Magazine
in Book Reviews
| Comments Off
|

Email
|

Print
from Weird Tales #356 / Summer 2010
Reviewed by: Daniel R. Robichaud
With its first line, Catherynne M. Valente's contribution to Weird Tales' summer 2010 issue strips the noir genre down to its essentials:
"In the City, there are three kinds of people: the dead, the devils, and the detectives."
From here, "Secretario" fashions an unusual, dark story about the missing Mala Orrin, the City's lone female detective. The tale is related through two narrators — extracts from the detective's journal and a monologue delivered by her male secretary (who coins the story's title as the masculine noun for his occupation). Though only five pages long, the story presents multiple corpses, a couple of devils, clues aplenty as to the detective's fate, and an abundance of delicious mystery.
Valente's prose is as carefully crafted as ever. The piece deftly transitions between its narrators, using the different voices to craft both a doomed love affair as well as an odd mentor-student relationship. The result is immersive and engaging — one part epistolary and one part confession make for an intoxicating attention grabber.
"Secretario" has quite a bit going on under the hood. It turns gender roles on their heads. It is fascinated with archetypes, and its narrators are not shy about identifying or drawing classical references around them.
In this grim City, the dead are always women, the devils are always men, and only the detectives can swing to either sex. Such reductions raise questions about the detective's secretary: Is he a knight in training or a monster?
"Secretario" keeps most of its answers close to its chest, avoiding an exposition-heavy whodunit ending by fashioning a mood drenched piece from a noir fiction template. Down these rainy, mean streets walks a darkly fantastic vision, sometimes beautiful and sometimes chilling and recommended reading for dark fiction addicts.
Purchase Weird Tales #356 featuring Catherynne M. Valente's "Secretario".
Posted
on Monday, March 21, 2011 at 11:50AM
by

Dark Scribe Magazine
in Short Fiction Reviews
| Comments Off
|

Email
|

Print
Lyrical Press / April 2010
Reviewed by: Rick R. Reed
Synopsis: (From Lyrical Press)
Fear has a face…
Orphaned at eighteen, Leanne's life is adrift in a sea of grief and drug use. She washes up on the shore of estranged relatives, the Carver family, struggling with loss of their own. The transition from her South London council estate to her new home in the Surrey middle-class suburbs is difficult for Leanne.
But beneath the respectable veneer of the quiet neighborhood, something terrifying lurks. Displaced and troubled teenagers are disappearing. Leanne recruits her cousin Simon and his girlfriend Carrie to help get to the bottom of the sinister mystery. Can the three of them stop a creature of unimaginable evil before Leanne becomes a target?
Review:
Suffer the Children is a good, old-fashioned horror story, with a touch of the paranormal, a little classic mythology, and a healthy dose of suspense, all set down in a contemporary British setting. It's the kind of book perfect for curling up with on a rainy afternoon and reading from cover to cover. Author Townsend has a facile, easy way with her prose and a keen observer's eye for people, resulting in unique and breathing characterization. Townsend's characters are mostly young adults, late teens to early twenties, and she captures them well, in all their late-adolescent angst and bad decision-making.
It is this age group that forms the central conflict and central horror to the novel. The orphaned main character, Leanne, has lost her mother to a drug overdose (one long in coming) and discovered, almost at the same time, that she has an aunt and a ready-made family she never knew existed until her mother died. Leanne's entry into this middle-class, white bread family, after growing up in what is essentially a London ghetto, makes for the novel's initial dramatic tension.
But then teenagers begin disappearing. Teenagers like Leanne, fosters, delinquents, and the like, all turn up missing and leave not a trace behind. The Carver family, who have adopted Leanne, lost their own daughter, Emma, and she may have fallen victim to the same plight as the other missing kids, although her disappearance does not fit the pattern. But the author cleverly explains Emma's disappearance.
The tension really ramps up in the novel when the pattern of disappearances begins to get noticed, not so much by the authorities, but by Leanne and her friends.
Unfortunately, the tension is slow in coming. And I fear many readers may not stick with Suffer the Children long enough to get to the really good parts. A reader is a full quarter of the way into the book until he or she truly begins to see some horror and some nail-biting suspense. If I hadn't been reading this book to review, I don't know that I would have stuck it out to get to the latter part of the book, when the tension, dramatic conflict, and terror really accelerate. In short, I think Townsend could have benefitted from a good editor, to help her shape and focus the novel a bit more. A good horror novel needs to grab a reader right from the start and Suffer the Children fails on that count.
But it is worth sticking with. In spite of a rather predictable climax and denouement (I saw the villain coming from a mile away), the book works. The author's creation of likable characters who grow over the course of the novel, the palpable sense of tension and dread, and the effortless prose all combine to make Suffer the Children a horror experience I can definitely recommend.
Purchase Suffer the Children by Sara Jayne Townsend.
Columnist Rick R. Reed is the author of more than sixteen novels, three collections, and short fiction in more than twenty anthologies. He lives in Seattle, WA. Find out more about the author at his official author website.
Posted
on Monday, March 21, 2011 at 11:06AM
by

Dark Scribe Magazine
|

4 Comments
|

Email
|

Print
Ghost House / November 2009
Reviewed by: Blu Gilliand
Some horror comes in the form of a scream; some, in a whisper. In the right hands, either form can make an equal impact. Likewise, if the skill level isn't there, both approaches can fall flat. Daniel McGachey takes the quiet road in They That Dwell in Dark Places, and the result lands firmly in the middle — a collection of stories that pass the time ably enough, but then pass just as easily from memory.
McGachey's collection is dedicated to M.R. James, who, along with writers like T.E.D. Klein and Charles L. Grant, mastered the form of the quiet horror story. Theirs are stories that don't rely on buckets of blood, creative kills and liberal profanity to drive readers to the end; instead, they employ atmosphere thick with dread and tension, and evil that lurks deep within the shadows, to produce their scares. (By the way, don't read this as an indictment of those other kinds of stories — when skillfully used, buckets of blood, shocking kills and creative cussing can be just as effective and tons of fun.) There's an almost genteel feel to work of this type, a coziness that makes reading such stories more of a comfort than a thrill. The writers of quiet horror – the good ones – use that coziness against us, but of course that's what we want them to do. We are there, after all, to be scared.
McGachey's love of this type of horror story is evident throughout They That Dwell, from the aforementioned dedication right on through to the style of his prose. Stories are related in a formal voice, as though a professor of literature has invited you into his parlor to share a few intriguing tales that he's picked up during his studies. The majority of the stories here employ just such a device, as a matter of fact — the ghost story is often not something that the reader is experiencing, but is instead a tale that one character is sharing with another. This works sometimes, but the effectiveness wears thin when story after story is presented this way. There's a lack of connection to the characters because the events often aren't happening to the people whose eyes we're seeing the story through, but instead have happened to someone else.
Take "The Ravelled Tress" for example, which was one of my favorite stories in the collection. It's an evocative tale of a lodge haunted by the malevolent spirit and murderous locks of a former inhabitant. You read that right — it's a story about killer hair. It's atmospheric, compact and quite effective, and yet, right in the middle of the story, one of the characters sits down to tell the backstory to the others — in front of a roaring fire, no less! By this point in the collection, it's become expected that someone is going to enter the story simply to tell another story, and here he is. Although "Tress" does focus more on the repercussions of the related events, bringing it that much-needed sense of immediacy that's missing from other entries, it's still an all-too familiar method of storytelling once you've reached this point in the book.
That criticism aside, there are good stories to be had here. "The Crimson Picture," about an artist with the (unwanted) ability to paint the horrific futures of his subjects is a solid piece of work. "The Traveller's Companion" centers on a salesman who buys a book of ghost stories by an admired author at an auction, only to find that many of the stories have been changed since their initial publication. As the reader becomes more and more obsessed with the stories in the book, he finds that fiction and reality are beginning to blur at the edges. On top of that, people connected with the book have begun to seek him out, as this special edition was made for a very particular audience, and owning it has consequences the man never expected.
Some might dismiss They That Dwell as horror lite, and perhaps McGachey does try too hard to capture the flavor of James. But there's potential there for more, and hopefully McGachey will work a little more of his own voice into the mix in future efforts. In the meantime, if you've exhausted your supply of quiet horror and have a taste for more, pick a couple of stories out of this collection. The book in its entirety may be too much of a similar thing, but a selection here and there will do the trick nicely.
Purchase They That Dwell In Dark Places by Daniel McGachey.
Posted
on Sunday, March 13, 2011 at 01:04PM
by

Dark Scribe Magazine
in Kindle Downloads/E-Books, Small Press Chills
| Comments Off
|

Email
|

Print
Acid Grave Press / November 2010
Reviewed by: Martel Sardina
"Which do you love more: Heavy metal music or horror fiction?" is a question this reviewer would have a hard time answering. Any longtime fan of both art forms knows that the two are, have been, and will continue to be wonderfully intertwined. A common theme found in many metal songs and many horror stories is that of chaos. From war (an external and obvious form of chaos) to love to alienation to the degradation into madness (the internal battle waged in the mind), many of the works in both forms are filled with imagery that plays on that theme.
The stories in Living After Midnight are filled with manifestations of chaos. In "Spooky Tooth" by Randy Chandler, the chaos is more of the internal kind. Dakota Joe Cadillac, a Hunter S. Thompson-esque rock journalist, gets more than he bargained for when he finally gets the opportunity to interview Caleb Dogberry, the "(were)wolf at Metal's door." Chandler captures the characters' voices perfectly. Having read this piece several times now, it gets better each time. The words flow with a poetic grace that I hope to capture someday in writing of my own.
Next up is "Iron Maiden" by Matthew Fryer. Set near a pub on the Thames River, Fryer captures the eeriness of London as Dom stands outside, smoking a joint, his calming pre-gig ritual. Dom hears a voice calling his name. He's stunned to see a ghost ship – appropriately, the Iron Maiden – materializing in the fog. Is he smart enough to resist the siren's call?
Steven Shrewsbury's "Black Sabbath" offers a different take on the chaos that ensues after a zombie apocalypse. In this world, zombies are not immune to the effects of rot and decay, leaving survivors to fear something far worse than the undead. Nothing conveys the pain and sorrow of this piece better than its closing line, "God will understand."
"Judas Priest" by David T. Wilbanks invokes a little black magic to bring the chaos in his tale to life. What good is protection from earthly harm if its cost is torment in another plane of existence? Kent Gowran's "Motorhead" is the story of a heist gone wrong. And finally, L.L. Soares brings the anthology to a close with "Slayer." This story is probably the most extreme in terms of violence and sexual content. Abercrombie has pledged his life to Saint Rainer. Leon, lead singer of the 80s band Honey Load, is being pressured by his former bandmates to capitalize on the resurgence of metal music and get the band back together. When the two meet, whose interests will be served?
While filled with action, these three latter stories lacked the emotional connection their predecessors possessed. This reviewer felt less vested in what happened to the characters over time. In Soares' piece, in particular, that lack of emotional connection was felt the most. When a character dies, the impact of that loss needs to be shown; otherwise, the violence and gore are just for show.
In the introduction, Wilbanks explains that the anthology was born after asking several author friends if they would be interested in writing a story with the name of their favorite metal band as the title and the chosen band's musical vibe as the loose inspiration. For this reviewer, "Spooky Tooth" was the clear winner in that challenge. However, fans of metal music and horror fiction can expect to find something else to love in the virtual pages of this book, if they don't agree.
Purchase Living After Midnight, edited by David T. Wilbanks and Craig Clarke.
Posted
on Sunday, March 13, 2011 at 12:06PM
by

Dark Scribe Magazine
in Kindle Downloads/E-Books
| Comments Off
|

Email
|

Print
from Cemetery Dance / Issue 64
Reviewed by: Daniel R. Robichaud
Cemetery Dance's 64th issue is a Bentley Little Special, which includes reviews and appreciations for Little's work and features two new stories: "The Wheel" and "We."
"The Wheel" is a gruesome piece about innocence destroyed. The premise is straightforward enough: three young friends visit a widow for a chance to spin a game wheel mounted to her apartment wall. The choice prize on this cheap bit of construction is "Collect $100." Acts of racially motivated violence fill the remaining slots — things like "Kick the Kike" or "Choke the Chink." Should the needle land on one of these, the spinner must perform the deed. Avoiding this duty results in an undeclared punishment. The unnamed narrator soon discovers evil can be quite seductive. The opening line tells us: "I wanted to spin the wheel again." And so he does.
"We" begins on a highway outside Las Vegas. A routine speeding ticket acts as the doorway to oddity. Had the woman in the red Sentra not been attractive, Officer Ed might not have stopped her. When he steps up to her door, she begins apologizing immediately, taking responsibility as opposed to behaving belligerently. It's only after she's received her warning and driven away that Ed realizes she said "We" instead of "I" though she travelled alone. Ed soon discovers this woman was his first encounter with a mysterious phenomenon sweeping Vegas: People communicating with unseen Others. This is not simple hysteria, but a disquieting invasion.
Little's prose is both lucid and dreamlike, giving readers a view of the real world skewed. Here, Little's brand of surreal horror, where nearly absurd situations turn suddenly and convincingly horrific, reveals ugly truths underlying the everyday blasé.
With "The Wheel," Little delivers a horror story with no overt supernatural trappings but plenty of subtle supernatural implications. If taken at face value, the story offers the same kind of real world evil populating Jack Ketchum's works. In fact the use of a young, arguably innocent protagonist invokes both Ketchum's The Girl Next Door and "The Rifle." However, an air of mystery hangs over this story. Who made the wheel? Who enforces its unspoken rules? While the story supplies suppositions and dark conspiracies, it offers few reliable answers, making each spin a gruesome act of faith. It is no stretch to read an otherworldly menace behind this device.
In direct contrast, the supernatural presence in "We" makes itself quickly apparent. In short order, the story moves from the everyday into unsettling territory. The supernatural element spreads like a highly communicable disease (as contagious as The Stand's Captain Trips, say). While this sickness does not leave its victims dead, Ed does not want to be its next victim. Little's knack for ramping up suspense makes the story intense and engaging. Though the plot culminates in a not terribly surprising ending, the story delivers its goods through Ed's compelling emotional journey.
If a gripe can be made with "We," it's one of scope. The cast of characters and the situation are all a little too large for the number of words given. This material could easily expand to fill a novella or complete novel. Little drops plenty of names and relationships, but Ed is the story's only real character and though his story is complete, "We" leaves plenty of questions unanswered. It reads like a fragment from a larger work. Though "The Wheel" is also somewhat ambiguous, this reviewer found its conclusion more satisfying.
Gripes for "More, please" aside, "We" and "The Wheel" demonstrate Bentley Little's talent for penning chilling short fiction.
Purchase Cemetery Dance #64 featuring Bentley Little's "We" and "The Wheel".
Posted
on Sunday, March 13, 2011 at 11:18AM
by

Dark Scribe Magazine
in Short Fiction Reviews
| Comments Off
|

Email
|

Print