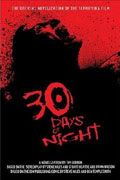 Pocket Star Books / September 2007
Reviewed by: Blu Gilliand
After several incarnations, including a comic book series, a couple of original novels, and now a film from Columbia Pictures, the story of 30 Days of Night should be well known to any genre fan with an ounce of awareness: as the tiny town of Barrow, Alaska, enters its annual month-long period of darkness, a group of vicious vampires descend, forcing a small band of townspeople into a desperate fight for survival.
The story, originated in comics form by writer Steve Niles and artist Ben Templesmith, has been applauded for its presentation of vampires as savage, bloodthirsty creatures hell-bent on feeding, rather than the stale characterization of angst-ridden Victorian aristocrats struggling with their affliction that has become so common in recent years. This latest incarnation comes from author Tim Lebbon (Berserk, The Everlasting) in the form of the film's official novelization. Lebbon was a natural choice, having tackled similar themes of isolation and survival in a frozen landscape in his novella White.
Reviewing a novelization, even one that works as well as 30 Days, can be difficult. Credit for the story's clever plot belongs largely to the source material – in this case, the script by Steve Niles, Stuart Beattie and Brian Nelson. However, credit for the execution of the story in this particular form, and for the difficult task of transforming the visual medium of film into a compelling page-turner, goes solely to the author. With 30 Days, Lebbon has handled this task expertly.
Lebbon's abilities as a storyteller elevate 30 Days of Night well beyond a typical movie tie-in. The author has taken great care to flesh out the characters so that readers have a vested interest in their survival. Even with no flashy special effects to fall back on, Lebbon has crafted a strong, almost cinematic reading experience, moving the story along briskly in short chunks that cut together with all of the tension of an expertly-edited film.
Hopefully, Lebbon's contribution to the 30 Days of Night mythos will send readers searching for his original work. In the meantime, he's grabbed hold of this small corner of Steve Niles' world and made it unquestioningly his own.
Purchase Tim Lebbon's 30 Days of Night
Posted
on Monday, October 22, 2007 at 10:32AM
by

Dark Scribe Magazine
in Book Reviews
| Comments Off

View Printer Friendly Version

Email Article to Friend