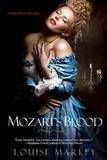 Kensington / July 2010
Reviewed by: Rick R. Reed
Synopsis: Award winning author Louise Marley's compelling, intricately layered story of a beautiful soprano who shares an everlasting bond with the world's most notorious musical genius…
Octavia Voss is an ethereal singer whose poise and talent belie her young age. In truth, she is a centuries-old vampire who once "shared the tooth" with Mozart himself. To protect her secret, Octavia's even more ancient friend Ugo stalks the streets to find the elixir that feeds his muse's soul.
With Mozart's musical prowess coursing through her veins, the ageless Octavia reinvents herself with each new generation. But just as she prepares to take the stage at La Scala, Ugo inexplicably disappears, leaving Octavia alone — and dangerously unprotected. Octavia vows to find Ugo, but his fate is in the hands of forces much darker than she could ever imagine. And when she learns the truth behind his disappearance, Octavia realizes too late that the life hanging most in the balance is her own.
Review: Just when you think you've read everyone in horror who matters, along comes Louise Marley with her amazing and lyrical vampire tale, Mozart's Blood. Gripping, artful, tellingly detailed, and impossible to put down, Mozart's Blood is that rare kind of horror novel that works on more than one level. It's visceral. It's evocative. It's scary. It envelops you in atmosphere and delivers on its promise to tell a compelling story.
There's that old saw – you know the one – about there being nothing new under the sun. Well, I've often heard that about vampire stories. They've been around so long and told in so many ways and with so many variations, is there really anything new left to say? Or is everything written about vampires just a rehash of the same old tropes we know, love, and dread?
Louise Marley has taken the vampire mythos (and, stunningly, the werewolf one, too) and breathed new life into it. Breathing new life into the undead, whether you're speaking literally or about literature, is no easy feat. But Marley, with her tale of an opera diva who was "turned" during a ménage a trois with Mozart himself and a Czech aristocrat, has used her imagination to craft something wholly original and often beautiful to behold. I love the way Marley takes us through the various lives of the singer, having her go away and then return as a new persona, so she can continue to indulge in her true passion, which is not blood, but music. And what music! One of the conceits of the book is that vampires, each time they take blood, they also take the memories of their victims. Our opera diva has the memories – and feelings – of Mozart himself. Who better to sing Donna Anna in his Don Giovanni? Any good opera singer knows half the battle is not in the voice but in the intention and the emotion behind the notes.
The book is infused with music, with global color (the descriptions of Italy and La Scala in Milan in particular are rich and detailed), and with a kind of strange love. A Sicilian werewolf she meets during the great earthquake of 1906 in San Francisco looks after our opera singer. His story is as compelling as hers and their intertwined lives over the years make fodder for fascinating reading. This was one book I was sorry to see conclude.
Marley also cleverly uses music as metaphor for immortality, tying it all together superbly with her paranormal creatures and showing how they're linked as both curse and blessing.
Mozart's Blood is one you won't want to miss.
Purchase Mozart's Blood by Louise Marley.
Columnist Rick R. Reed is the author of thirteen novels, three collections, and has short fiction in more than twenty anthologies. He lives in Seattle, WA. Find out more about Reed at his official author website.
Posted
on Monday, August 16, 2010 at 11:32AM
by

Dark Scribe Magazine
|

1 Comment
|

6 References

View Printer Friendly Version

Email Article to Friend
References (6)
References allow you to track sources for this article, as well as articles that were written in response to this article.
Dark Scribe Magazine - Grimoire: Books That Cast A Spell - Column - Mozart's Blood / Louise Marley

Dark Scribe Magazine - Grimoire: Books That Cast A Spell - Column - Mozart's Blood / Louise Marley

Dark Scribe Magazine - Grimoire: Books That Cast A Spell - Column - Mozart's Blood / Louise Marley

Dark Scribe Magazine - Grimoire: Books That Cast A Spell - Column - Mozart's Blood / Louise Marley

Dark Scribe Magazine - Grimoire: Books That Cast A Spell - Column - Mozart's Blood / Louise Marley

Dark Scribe Magazine - Grimoire: Books That Cast A Spell - Column - Mozart's Blood / Louise Marley