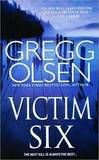 Pinnacle / February 2010
Reviewed by: Rick R. Reed
Synopsis: The bodies are found in towns and cities around Puget Sound. The young women who are the victims had nothing in common — except the agony of their final moments. But somebody carefully chose them to stalk, capture, and torture... a depraved killer whose cunning is matched only by the depth of his bloodlust. But the dying has only just begun. And next victim will be the most shocking of all...
Review: Before Gregg Olsen began writing crime novels, he wrote true crime books. I was a fan of his work even before a chance encounter on MySpace made us cyberfriends. I loved his profiles, especially of females ensnared in crime: Mary Kay Letourneau, Sharon Nelson, and Tanya Reid spring immediately to mind.
But when Olsen began penning crime novels, spinning tales out of his history of reporting on and investigating real crime in the real world, I became an even bigger fan. I think that's because, maybe more than any other writer working in the suspense/thriller/crime genre, Olsen can be counted upon to deliver a tale that has the ring of authenticity. You get the feeling, as you read Olsen's fiction, that this could really happen — and that makes his novels all the more compelling. The fact that Olsen is at liberty, in a fictional world, to delve even deeper into crime, letting his well-informed background and imagination roam free, makes his novels some of the best stuff around today when it comes to fiction that explores crime in all its aspects.
Victim Six is no exception. This is Olsen's fourth novel and he gets better with each outing. He always had the ability to write about crime, its victims, and its villains in a way that was utterly believable, but it's obvious his craft as a writer of fiction continues to grow in terms of characterization, pacing, and plotting. Victim Six is a riveting, one-sitting kind of read that spins a serial killer tale that goes above and beyond what jaded readers of the genre have come to expect.
For one, and I've said this before, Olsen's background in true crime gives him unique insight into the minds of killers. Many other authors write about police procedure and past and potential victims, but few can gives us the kind of insight Olsen does into the criminal mind. All of his novels delve into the killers' stories as much as their victims and investigators, making for a well-balanced and terrifying read. Olsen knows that one thing readers of true crime and fictional misdeeds really want to know is "what in the world were they thinking?" when it comes to antagonist's choices and compulsions.
For another, Olsen gives us something unusual in the canon of crime writing, either real or imagined: a pair of serial killers, male and female, and fully realized. His killers in Victim Six are a married couple and their killings play into their sick codependence. It's unique, original, and makes for a disquieting and wholly original read.
I only have a couple of small quibbles with Olsen's Victim Six: one is the ending, which seems formulaic and predictable once you've gotten into the story. I would have liked to see a few more twists as we got to the final few pages, rather than the tidy wrap-up Olsen gives us. And that leads me to my second quibble: in his other crime novels, Olsen builds the suspense a bit better, ratcheting it up with complications and true character terror. Here he goes a bit more from A to B to C, leaving me a bit unsatisfied. I wish that Olsen had given us more suspense which might have been achieved by delving into the "why" of his killers. Victim Six is an excellent read, and one I highly recommend, but I would have liked to have seen a bit more heart-pounding suspense from such an original story and such deliciously evil villains.
Purchase Victim Six by Gregg Olsen.
Columnist Rick R. Reed is the author of twelve novels and has short fiction in more than twenty anthologies. He lives in Seattle, WA. Find out more about the author at his official author website.
Posted
on Monday, February 15, 2010 at 02:39PM
by

Dark Scribe Magazine
|

3 Comments
|

2 References

View Printer Friendly Version

Email Article to Friend
References (2)
References allow you to track sources for this article, as well as articles that were written in response to this article.
Today we shall speak for you about the fashionable range of Oakley sunglasses that you want to wear

Dark Scribe Magazine - Grimoire: Books That Cast A Spell - Column - Victim Six / Gregg Olsen