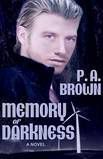 Amber Allure / September 2009
Reviewed by: Rick R. Reed
Synopsis: Johnny Wager has been a loser all his life and proud of it. But when a West Hollywood twink ends up dead in a hotel room with Wager literally holding the bag, he knows his life is going to change for the worse. Pursued by the West Hollywood sheriffs for a murder he knows he didn't commit, Wager has to stay one step ahead of them and prove his innocence. It doesn't help matters any that his own son, Mark Wager, is a deputy sheriff who has joined the manhunt and has more reason than anyone to find the father who failed him all his life and bring him to justice.
Add Hyacinth, a six-foot-five drag queen from New Orleans, Taz, her Puerto Rican boyfriend, an ex-Marine porno filmmaker and his incontinent Basset Hound Columbo, and the Armenian mob chasing them all through the streets of Los Angeles and the art walks and canals of Venice Beach and you have a recipe for one of the most bizarre thrillers to come along in years. Wager pursues his own answers to the question of who is trying to kill him in the sleazy bars and back alleys of Hollywood all the way to Cathedral City.
Can Wager stop the killers and reconcile with his son or will he end up being the next victim? Betrayed by friends, beset by his own conscience that has come back late in life with a vengeance, and the need to redeem himself, he battles the ruthless mob in the only way he knows how: with cunning and a total disrespect for the law.
Review: P.A. Brown is one of those writers who should be as famous as P. Cornwell, if there were any justice in the world. The author of a whole series of competent, well-researched, and catch-your-breath suspenseful thrillers all centered around the seamy (and gay) underbelly of Los Angeles, Brown's oeuvre is one that should be embraced by anyone who loves a seamlessly plotted thriller with characters that are anything but typical. Brown writes lean, muscled prose and captures the male viewpoint so effortlessly that one wonders how she does it. What is that bulge in your crotch, Ms. Brown?
Memory of Darkness is a bit of a departure for Brown, but not so much that those who have come to love heart-pounding thrillers like L.A. Heat and Geography of Murder will be disappointed. Read the premise above and you might come away with the impression that this is a bit of a madcap adventure, coming down on the side of farce more than suspense. I think Brown herself wants to believe that Memory of Darkness falls more into the genre of comedy than thriller.
But you and Brown would both be mistaken. Memory of Darkness serves up a stay-up-all-night read that grabs you and refuses to let go until its surprisingly touching denouement. In spite of its universe populated with oversized drag queens, impolite hounds, and kinky sex aficionados, this is a book that, for its best intentions, fails at being a comedy…but succeeds brilliantly as a thriller. Part of the reason is that Brown is so adept at assembling a cast of characters that are just as unique as they are sympathetic. Everyone here is someone you probably haven't encountered in fiction before and Brown imbues them all with the kind of detailed, real-life touches that make you care deeply about most of them, and at least want to see what happens next to all of them, even the most villainous of the lot.
Underlying Brown's crime tale is a romance between the main character and the owner of the afore-mentioned Bassett Hound…and a very touching story of how family ties can come unraveled. Brown's main character, a very gay man, has a son on the Los Angeles police force, and their interactions through this story not only make for compelling conflict, but for a real commentary on the importance and complexity of father and son relationships. Brown never makes their relationship easy, but also offers hope for reconciliation, just like in families of the real world.
Memory of Darkness is a light, but gripping, introduction into the world of P.A. Brown. It's a world if – you're like me – you won't want to soon leave.
Purchase Memory of Darkness by P.A. Brown.
Rick R. Reed is the author of ten novels and has short fiction in more than twenty anthologies. He lives in Seattle, WA. Find out more about the author at his website.
Posted
on Wednesday, September 16, 2009 at 10:40AM
by

Dark Scribe Magazine
|

3 Comments

View Printer Friendly Version

Email Article to Friend