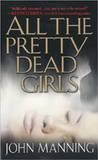 Pinnacle Books / April 2009
Reviewed by: Rick R. Reed
Synopsis: One By One...
Two decades ago, at a private women's college in upstate New York, a student was brutally attacked in her dorm room. Her assailant was never found...
They Disappear...
Sue Barlow arrives at Wilbourne College twenty years later. When a classmate disappears, Sue thinks it's an isolated incident. But then two other girls vanish...
And Die...
As fear grows on campus, Sue begins to sense she's being watched. And as the body count rises, she soon realizes that a twisted psychopath is summoning her to play a wicked game - a game that only will end when she dies.
Review: I'm in a quandary over this review. How can I put this without sounding like a fool?
I heartily enjoyed John Manning's All the Pretty Dead Girls.
I didn't really think All the Pretty Dead Girls was a very good book.
So now I'm having brain cramps trying to reconcile these two statements. My scalp itches. Perhaps it's best to say that All the Pretty Dead Girls is a guilty pleasure: maybe not so good for you, but oh, what fun it is to consume.
Positioned as a thriller by Pinnacle (a division of Kensington), All the Pretty Dead Girls is really more of a horror story about the coming end days, as told in the Book of Revelations (though, if you read Manning's book, you'll discover that the Church has hidden the real Book of Revelations, cue Da Vinci Code theme music here). Manning gives the story a kind of whacky twist and makes the antichrist an unassuming, unaware and very demure college girl. We share in her journey of self-discovery, although I would hesitate to say "you'll see yourself here" on that journey. Along the way, our heroine Sue—even her name is white bread—uncovers the fact that she was fathered by Satan, the grandparents who raised her and most of the people around her are in league with the Dark One and can't wait to see Sue realize her destiny as evil incarnate, and she gets flashes of her wicked self showing up unexpectedly, which usually entail saying hateful things to people like her roommate (which really aren't all that different from what teenage girls have been saying to each other for years, anyway).
But damned if you don't like Sue and root for her on her journey, hoping that her "human" side will win out (she is mixed race: human and devil) in the end and world order will be maintained. The book is expertly plotted and Manning is facile at manipulating readers to keep turning the pages.
Taking heavy inspiration from Rosemary's Baby and The Omen, Manning has crafted a cheesy, yet very readable horror story that, for all my nose-in-the-air reservations, will grab you from the very first sentence and carry you through on a torrent of suspense. With the campy appearance of characters like an Ann Coulter-like friend of the family (and why even bother to mask the fact that Coulter is in league with the devil?), All the Pretty Dead Girls is sublimely readable, perfect for throwing in the beach bag this summer. By turns, it should creep you out and make you giggle at its preposterous and derivative storyline.
Bottom line, would I read more of John Manning's work? Yes, in a heartbeat. Do I recommend you do? Yes, in a heartbeat. Do I think Manning will give horror heavyweights like Clive Barker or Stephen King a run for their money? Only if the antichrist intervenes.
Purchase All the Pretty Dead Girls by John Manning
Columnist Rick R. Reed is the author of ten novels and has short fiction in more than twenty anthologies. He lives in Seattle, WA. Find out more about the author at his website.
Posted
on Wednesday, July 1, 2009 at 07:35AM
by

Dark Scribe Magazine
|

3 Comments
|

10 References

View Printer Friendly Version

Email Article to Friend
References (10)
References allow you to track sources for this article, as well as articles that were written in response to this article.
If you appreciate football, you possibly have a preferred group from the National Football League or two and have a list of players who like to have noticed.

Dark Scribe Magazine - Grimoire: Books That Cast A Spell - Column - All the Pretty Dead Girls / John Manning

Dark Scribe Magazine - Grimoire: Books That Cast A Spell - Column - All the Pretty Dead Girls / John Manning

Dark Scribe Magazine - Grimoire: Books That Cast A Spell - Column - All the Pretty Dead Girls / John Manning

Dark Scribe Magazine - Grimoire: Books That Cast A Spell - Column - All the Pretty Dead Girls / John Manning

Dark Scribe Magazine - Grimoire: Books That Cast A Spell - Column - All the Pretty Dead Girls / John Manning

Dark Scribe Magazine - Grimoire: Books That Cast A Spell - Column - All the Pretty Dead Girls / John Manning

Dark Scribe Magazine - Grimoire: Books That Cast A Spell - Column - All the Pretty Dead Girls / John Manning

Dark Scribe Magazine - Grimoire: Books That Cast A Spell - Column - All the Pretty Dead Girls / John Manning