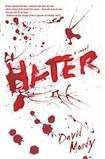 St. Martin's Press / December 2008
Reviewed by: Rick R. Reed
Synopsis: One day you're heading to work, playing with the kids, kissing the wife goodnight, the next day you're a killer.
It occurs without warning — sudden, vicious, and lethal attacks. Why are people attacking their friends, their family, even complete strangers? Is it a virus, or is it a terrorist attack, or is it something more primal? An overwhelming terror has gripped the country and there's no one to trust — not even yourself.
Review: David Moody's Hater took something of an unusual path to mainstream publication. Moody self-published the book and sold the film rights to Pan's Labyrinth director Guillermo del Toro without an agent. And then, a mainstream publisher like St. Martin's came along, recognized Moody's brilliance, and snatched up not only Hater, but also a mini cottage industry of Moody horror novels.
Moody is the real deal when it comes to horror and it's no surprise he is hitting the big time with this novel. Moody does what the best horror writers do: set you down in a familiar world, and then turn it upside down, building suspense and dread relentlessly. Hater is tortuously good stuff, impossible to put down, revolting in the best way, and a thought-provoking commentary on our times.
Hater is about a virus? plague? evolutionary shift? that begins occurring without warning and on a widespread, global scale. People are suddenly filled with rage, adrenalin-fueled strength, and an indomitable desire to kill. It doesn't take long for the world to be reduced to a martial-law state, where it's haters against the rest of the world, a "rest" whose numbers are rapidly dwindling. The book kind of echoes some of the best end-of-the-world scenarios like Richard Matheson's I Am Legend and Romero's Dead series, but goes further and is even better, I think, than those iconic masterpieces.
Why? Because Hater is a bit of a mind-fuck and Moody doesn't hesitate to paint his apocalyptic canvas in frightening tones of gray. See, we go along, blissfully thinking that the people like us are the good guys and the out-of-control haters are the bad ones. But Moody pulls that comforting rug out from under us and foreshadows it in a scene when our main character, everyman Danny McCoyne, comes across an upstairs neighbor dying in the vestibule. Danny assumes the man was the victim of a hater, until the man tells him, "You see everything so clearly when it happens to you…It's them, mate…not us. They're the ones who hate. Get yourself ready."
Moody raises provocative questions and I won't spoil the edge-of-your-seat plotline by going into too much detail, but suffice it to say that who are the haters and who are the hated become identifications that are open to debate. And that makes Hater unique and a book that sticks with a reader long after he or she has closed the book.
Moody is smart, setting Hater down in a very real world (what seems to be a modern, industrial British city, but which could be anywhere, which is exactly the point) and making its protagonist someone who could easily be our neighbor, relative, or friend…or ourselves. I think the scariest stories are those that aren't set in some fantastic universe, but ones that take place under the bright light of day, in a world that's right under out noses.
Those stories are the most real and thus, the most horrifying.
Hater is the first of a trilogy. I can't wait for the other books…and to get my hands on more of Moody's crazy-good horror.
Purchase Hater by David Moody.
Columnist Rick R. Reed is the author of ten novels and has short fiction in more than twenty anthologies. He lives in Seattle, WA. Find out more about the author at his website.
Posted
on Monday, May 11, 2009 at 08:38AM
by

Dark Scribe Magazine
|

Post a Comment
|

18 References

View Printer Friendly Version

Email Article to Friend
References (18)
References allow you to track sources for this article, as well as articles that were written in response to this article.
Dark Scribe Magazine - Grimoire: Books That Cast A Spell - Column - Hater / David Moody

Dark Scribe Magazine - Grimoire: Books That Cast A Spell - Column - Hater / David Moody

Dark Scribe Magazine - Grimoire: Books That Cast A Spell - Column - Hater / David Moody

Dark Scribe Magazine - Grimoire: Books That Cast A Spell - Column - Hater / David Moody

Dark Scribe Magazine - Grimoire: Books That Cast A Spell - Column - Hater / David Moody

Dark Scribe Magazine - Grimoire: Books That Cast A Spell - Column - Hater / David Moody

Dark Scribe Magazine - Grimoire: Books That Cast A Spell - Column - Hater / David Moody

Dark Scribe Magazine - Grimoire: Books That Cast A Spell - Column - Hater / David Moody

Dark Scribe Magazine - Grimoire: Books That Cast A Spell - Column - Hater / David Moody

Dark Scribe Magazine - Grimoire: Books That Cast A Spell - Column - Hater / David Moody

Netscape is usually a unfortunate example. When Microsoft entered the browser enterprise, its competitive moves against Netscape had been so ambitious the federal govt stepped in to drag the bully off its target. It was also late for Netscape..

Dark Scribe Magazine - Grimoire: Books That Cast A Spell - Column - Hater / David Moody

Dark Scribe Magazine - Grimoire: Books That Cast A Spell - Column - Hater / David Moody

Dark Scribe Magazine - Grimoire: Books That Cast A Spell - Column - Hater / David Moody

This live-action Disney flick is usually a fun tribute to Irish folklore, having a proficient cast showcasing a young Sean Connery. Inside the movie, Darby O'Gill is the elderly estate caretaker whose work is about to be usurped by Connery's character. O'Gill is naturally concerned how he will present for his ...

Dark Scribe Magazine - Grimoire: Books That Cast A Spell - Column - Hater / David Moody

Dark Scribe Magazine - Grimoire: Books That Cast A Spell - Column - Hater / David Moody

Dark Scribe Magazine - Grimoire: Books That Cast A Spell - Column - Hater / David Moody