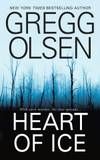 Pinnacle / March 2009
Reviewed by: Rick R. Reed
Somebody should tell Gregg Olsen his true crime roots are showing. The venerable New York Times bestselling author of such non-fiction page-turners as If Loving You is Wrong and Abandoned Prayers has lately turned a practiced eye toward the writing of crime fiction.
With delightful results.
Heart of Ice is Olsen's third thriller, after A Cold Dark Place and A Wicked Snow and if this new novel is any evidence, Olsen is getting better and better with each outing. And that's no small praise: both previous fiction efforts were solid, compelling, and fiercely entertaining entries in the genre.
On the surface, Heart of Ice has all the elements of a competent thriller. There's a murder investigation that will have readers recalling the Scott Peterson case, there's a determined police investigator with problems of her own and a budding romance with a partner in crime. There's a serial killer on the loose, targeting beautiful sorority girls (Ted Bundy, anyone?). And the serial killer has an agenda that will eventually strike dangerously, perhaps even tragically, close to home for the book's heroine investigator.
Heart of Ice, however, rises above the requirements of the crime thriller genre in its detailed depiction of a killer. In fact, the book, while fulfilling the genre wish list of suspense, sympathetic characters, and page-turning plotting, also works as a meditation on evil. I was almost ready to fault Olsen for spending so many pages on the killer, but then I began to realize how much better this fleshed-out narrative of his back story and present life made the book. This portrait of a serial killer makes us think: about the nature of evil, about where it comes from, and—most chillingly—how it can exist almost undetected among the most mundane settings and people. As we see the killer in his suburban home, at his run-of-the-mill white collar day job, and being "Daddy" to his two small children and husband to his loving wife, we may be shaken and dumbstruck by how the most evil of flowers can bloom in the most common soil and terrifyingly, can wind up next door to us. In the end, what really gave Heart of Ice its power and punch was the fact that—willingly or not—we become compelled to intimately know a murderer. And while his deeds may inspire little sympathy, we can understand what drives him and can understand how his twisted logic and tragic family history conspire to create a monster.
I suspect Olsen's background in writing true crime allowed him to get so deeply into the heart of his anti-hero, and while the book spends way more time on him than most other genre entries, it's all fascinating stuff, making Heart of Ice a unique read. Olsen offers something a lot of crime thrillers can't: a unique background view into the very real world of crime…and that makes his novels ring true and accurate, lifting readers (or perhaps lowering them) into a nightmare world that's as frighteningly common as today's headlines.
Purchase Heart of Ice by Gregg Olsen.
Posted
on Tuesday, March 10, 2009 at 10:13AM
by

Dark Scribe Magazine
|

Post a Comment

View Printer Friendly Version

Email Article to Friend