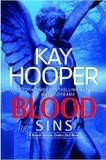 Bantam / December 2008
Reviewed by: Rick R. Reed
Oh, how I wanted to love Kay Hooper's Blood Sins. I mean, look at that gorgeous blue-hued cover, spooky and evocative with the word, 'blood' in screaming crimson. Who could resist that cover? And the plot line? Just the back cover copy sent chills up and down my spine:
Young, vulnerable, attractive, Tessa Gray made the perfect victim. Which was why Noah Bishop of the FBI's Special Crimes Unit recruited her as bait to trap a killer hidden inside the Church of the Everlasting Sin—a fortified mountain compound where two women were murdered in ways that defy explanation…
Wonderful. A novel that combines the best of both worlds: horror and suspense, with perhaps even a little romance thrown in. I expected Blood Sins to be a real page-turner, an up-all-night-sleep-with-the-lights-on corker that I wouldn't be able to put down.
Yet, sadly, Blood Sins was a chore, the happiest part of reading it was experiencing the sigh of relief when I closed the cover for the last time. For a thriller, and a book with blood in its title, Blood Sins is a curiously bloodless exercise. It wants to be cinematic and over the top, the kind of special effects extravaganza snapped up by Hollywood for a blockbuster in the same vein as the X-Men franchise. And maybe that was the problem: the book is all about concept, with little thought given to execution. For all its excesses (Mediums! Psychics! Ghosts! Ripped from the headlines evangelical cults! A serial killer with tawdry sexual abuse as his motivation!), the book left me cold; it seemed plotted by the numbers and the characters were little more than caricatures. Even the evil villain at its heart seemed distant and without any fire.
But I could almost forgive all that: sometimes a good plot-driven book can hold my interest as well a character-driven one. But among Hooper's sins is another one that's perhaps even more damning: the author stretches credibility beyond the breaking point. She sets up her universe with the intention of grounding it firmly in reality (the FBI, law enforcement, a church compound suspiciously akin to cults like Waco and Jonestown), and then asks us to swallow a world that just doesn't exist. Hooper has populated the book not with one character with supernatural abilities, not with even two, or even a special team, but with a world where it almost seems like every other person has some sort of psychic power. There are psychics galore, mediums, people who can create shells around themselves, telepaths and telekinetics, folks who can harness electricity and folks who can stop clocks; we have aura readers and megalomaniacs who can draw energy from women's orgasms and harness lightning. We have healers who can knit bones almost instantly. It would be okay if this were science fiction and Hooper wanted to draw us into a world with its own internal logic, where most everyone had a sixth sense. But here, it's just too much. Like any fan of the X-Files, I want to believe.
But Blood Sins just wouldn't let me.
Purchase Blood Sins by Kay Hooper.
Posted
on Sunday, February 15, 2009 at 09:22AM
by

Dark Scribe Magazine
|

Post a Comment

View Printer Friendly Version

Email Article to Friend