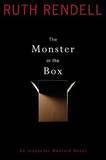 Scribner / October 2009
Reviewed by: Rick R. Reed
Synopsis: The Monster in the Box is the latest addition to Ruth Rendell's classic Inspector Wexford series. Rendell's latest entry in the series takes Inspector Wexford back to his days as a young policeman, and to the man he has long suspected of serial murder.
Outside the house where Wexford investigated his first murder case – a woman found strangled in her bedroom – he noticed a short, muscular man wearing a scarf and walking a dog. He gave Wexford an unnerving stare. Without any solid evidence, Wexford began to suspect that this man – Eric Targo, he learned – was the killer.
Over the years there are more unsolved, apparently motiveless murders in the town of Kingsmarkham, and Wexford continues to quietly suspect that the increasingly prosperous Targo – van driver, property developer, kennel owner, and animal lover – is behind them.
Now, half a lifetime later, Wexford spots Targo back in Kingsmarkham after a long absence. Wexford tells his longtime partner, Mike Burden, about his suspicions, but Burden dismisses them as fantasy. Meanwhile, Burden's wife, Jenny, has suspicions of her own. She believes that the Rahmans, a highly respectable immigrant family from Pakistan, may be forcing their daughter, Tamima, into an arranged marriage — or worse.
In The Monster in the Box, the twenty-second book in the Inspector Wexford series, fans will be thrilled to meet the now-aging inspector in the robust early days of his career. For new readers, no introduction to this spectacular writer and her compelling protagonist could be finer.
Review: I admit it: I am in love with a woman. Ruth Rendell has long been one of my literary obsessions, a woman at whose feet I unabashedly kneel and worship. Time magazine has called her, "the best mystery writer in the English-speaking world" and this is not hyperbole. She is. She really is.
Ruth Rendell has two personas. One is Barbara Vine, who writes compelling psychological thrillers (which I prefer) and the other is Rendell, the author of the Inspector Wexford mystery series (Wexford is named after a place in Ireland Rendell visited shortly before coming up with the idea for the first Wexford book, From Doon with Death).
I mention the first book in a series that spans decades and encompasses more than twenty stories because with The Monster in the Box, Rendell charts the territory of Wexford's past. Aside from being a provocative mystery whose solution is never obvious but surprising and ultimately logical, Rendell gives us a Wexford who is still sharp, but who is comfortable in his domestic life and still has a keen eye for social causes. It makes sense that the aging Wexford, nearing retirement, would be motivated to look into his past: his first loves, meeting his wife Dora, and the England of his youth. He is motivated not only because he suspects a serial killer who has tormented him for years with improvable murders has possibly returned, but also because he has reached the stage of life where one turns to one's past and examines it. The Monster in the Box, while a cracking good mystery, is also a meditation on life in the latter years and the title is a nod to the self-help of putting a difficulty in an imaginary box and setting it aside. The serial murderer at the book's center is Wexford's monster and, although he had been able to put this monster in a box (it has been highly frustrating for Wexford not to prove the killer's culpability), circumstances have released the monster once more. One of the most fascinating thing Rendell does in this latest outing with Wexford is that she makes us wonder if the old Chief Inspector isn't beginning to lose it…is the killer really a killer, or is Wexford beginning to mistake his own intuition for solid detective work?
Rendell is a school inspiring authors should enroll in. She knows how to create characters, craft believable dialogue, pace her plots so that one is compelled to continue turning the pages, and she wraps all this up in prose so simple and elegant that it ceases to exist. Instead, her stories come to life in the reader's mind. The Monster in the Box is no exception, which is why Ruth Rendell is both a treat for readers and writers alike.
Purchase The Monster in the Box by Ruth Rendell.
Columnist Rick R. Reed is the author of eleven novels and has short fiction in more than twenty anthologies. He lives in Seattle, WA. Find out more about the author at his official author website.
Posted
on Thursday, November 26, 2009 at 10:58AM
by

Dark Scribe Magazine
|

1 Comment
|

2 References

View Printer Friendly Version

Email Article to Friend
References (2)
References allow you to track sources for this article, as well as articles that were written in response to this article.
Dark Scribe Magazine - Grimoire: Books That Cast A Spell - Column - The Monster in the Box / Ruth Rendell

Dark Scribe Magazine - Grimoire: Books That Cast A Spell - Column - The Monster in the Box / Ruth Rendell