By, Vince A. Liaguno
Tom Cardamone's writing style blends the nightmarish terrain of Clive Barker with the fetishistic sexual violence of Dennis Cooper to create wholly singular worlds in which normalcy and disturbing collide like two rush-hour commuter trains packed with passengers. Safe to say that while Cardamone's fiction may not agree with those weak of stomach, those with a penchant for imaginative storytelling that pushes the limits of convention and stretches the mind's eye to distortion will find literary nirvana.
Yeah, Tom Cardamone's fiction is a bit out there. But ask him if he minds that assessment and he'll probably tell you it's a compliment.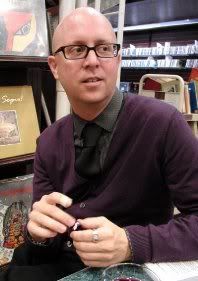 But, having just crossed the threshold of 40, the NYC-based speculative fiction writer isn't interested in compliments on the normalcy of his life or career – whether discussing his long-term survival in the city that never sleeps or his humble beginnings writing reviews of books that chronicled the gay Asian experience for earlier incarnations of the Lambda Book Report. No, he wants to hear that his writing hits an uncomfortable nerve somewhere deep in the recesses of those subconscious dark sides.
And while Cardamone aims for nerves of a different kind in his periodic gay erotica outings, like his 2008 novel The Werewolves of Central Park and short story contributions to the anthologies Country Boys: Wild Cat Erotica, Best Gay Erotica 2008, Backdraft: Firemen Erotica, and Madder Love: Queer Men and the Precincts of Surrealism, it's in discussing his darker stuff that one can almost imagine his eyebrows raise, then lower, in serious consideration of the ramifications of good versus evil and how the lines between the two get blurred when we surrender to the notion that both exist within each of us.
In his first collection of dark speculative fiction, Pumpkin Teeth (Lethe Press, 2009), Cardamone offers up a mix of thirteen original and previously published tales, ranging from "Suitcase Sam" – a twisted gay variation on (well, OK, complete contortion of) Boxing Helena – to the Greg Araki-esque "Mishima Death Cult."
"I always knew what I would title my first short story collection," Cardamone writes on his author website. "Most every story is a story of transformation, but I am fascinated by this particular bent of anthropomorphism, that not only do we project ourselves onto things, but then we become terrified of them, never realizing it's the human qualities that are so frightening."
Dark Scribe Magazine decided to launch 'Queer Horror' month by sitting down with the frighteningly not frightening Cardamone to discuss the influences that informed his unique writing style, the discovery of the gay experience, and why he's perfectly fine with having his work called "perfectly strange."
Dark Scribe: How did you select the stories for Pumpkin Teeth? Were you limited to a certain number — if so, how did you make the final selections?
Tom Cardamone: Years ago, I'd read Nabokov's A Baker's Dozen and thought that thirteen was a perfect number of stories for a collection, or at least for me if I was ever lucky enough to cobble one together. When the publisher approached me about putting Pumpkin Teeth together, I gathered all my published work that had a dark speculative theme, then added stories that were unpublished or linked to anthologies that, sadly, went under, so they never had that chance to bloom in the moonlight.
Dark Scribe: If you had to pick a favorite story from the collection, which would it be and why?
Tom Cardamone: Oh, tough! I'm really partial to "Lightning Capital", the first story. It's a tale of a boy who can suddenly turn to lightning, and this illuminates his coming out process. I think it's a favorite because I thought it up in the 11th grade and was sitting in my apartment one afternoon and realized I'd never bothered to write it down. So zap! It just poured out of me, after two decades I finally typed it out.
Dark Scribe: You worked in both the novel and short story formats. Which do you prefer and why?
Tom Cardamone: A short story is a great way to release the pressure of writing a novel. I write my best stuff when I need a reason to avoid finishing a book. I'm much more into novels, rarely read short stories, but when I do, if it's the right author, I'm just so there, you know? Patricia Highsmith is a forgotten master of the form; I happened to be reading a collection of her work when I finally got serious about the short story.
Dark Scribe: How would you describe your work — queer horror, speculative fiction?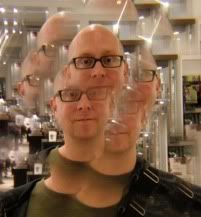 Tom Cardamone: Perfectly strange. I'd say that's what I'm aiming for. I do want the normalcy that envelopes and ultimately fails my characters to be visible, tangible...I love the elements that Norman Rockwell surrounds his subjects with. I do the same thing, or try too, but my stories also feature tentacles pulling at the edge of the canvas.
Dark Scribe: What separates queer horror from, say, straight-up horror with gay characters?
Tom Cardamone: Straight people's lives have trajectory, gay people have discovery.
Dark Scribe: When did you first realize that you wanted to be a writer? What was your first professional sale?
Tom Cardamone: Always, I always knew and just craved this. I remember putting down an Edgar Rice Burroughs John Carter of Mars novel when I was like ten and just thinking, "I want to build worlds." It took me years to gather the courage to write, though, more so to publish. It really was linked to my coming out, I couldn't really write until I was out. My first published story was "Mishima Death Cult" with Velvet Mafia. The editor there, Sean [Meriwether], was great with advice and subsequently published more of my work. So if you're reading this Sean, thanks!
Dark Scribe: Who are some of the writers who most inform your own writing?
Tom Cardamone: John Varley opened a lot of doors for me when I was young, so did Octavia E. Butler, and Geoff Ryman. Shout outs to Philip K. Dick are rather passé' now, but I was trading his books with potheads when all the good shit was way out of print and forgotten. At that time his stuff was considered to be on the same level as acid. Of course Genet and Rechy's City of Night informed my idea of the queer landscape, that we don't just have closets, we own cities. And I haven't seen this noted anywhere, but William S. Burroughs really can sculpt a perfect sentence. Some of his books are all broth and nothing solid and then bam! – he nails it. Look for his nails. They're sharper than anyone else's.
Dark Scribe: All-time favorite book?
Tom Cardamone: Oh, Lanark by Alasdair Gray. It's the only book I've ever encountered where the character ages as we do in real life: utterly surprised that it's happening and happening so damned quickly.
Dark Scribe: What are you working on now?
Tom Cardamone: I'm finishing up a queer fantasy novella and I'm in talks with a publisher to edit a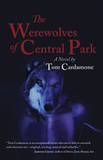 speculative anthology – I'll give you a hint, if anyone liked my short story, "River Rat," you'll like this book; this spring, a book I've edited, The Lost library: Gay Fiction Rediscovered, comes out. Over the years I'd asked gay writers I know to write about that one gay novel or short story collection that mattered to them, affected their lives, but had slipped out of print. Some of the books these writers turned me on to were just astounding. I just created a Facebook page for it if anyone wants to check it out.
Dark Scribe: Which movie – past or present – best describes your life thus far?
Tom Cardamone: The Hunger.
Dark Scribe: What's one thing that your readers would be surprised to know about you?
Tom Cardamone: I can ride a unicycle.
Dark Scribe: Your interview kicks off 'Queer Horror' month here at Dark Scribe Magazine. How would you define queer horror?
Tom Cardamone: Our experiences can lead us to the shadows and from the shadows. That Nietzsche line, "When you stare into the abyss, the abyss stares into you." Well, gay people uniquely dance on the edge of that abyss, some by choice, some by horrible circumstance, but weirdly, we don't just stare into it, we wink at it.
For more information about Tom Cardamone, visit his official author website.
Purchase Pumpkin Teeth by Tom Cardamone.
Posted
on Sunday, February 21, 2010 at 04:21PM
by

Dark Scribe Magazine
in Authors
|

Post a Comment