By, Martel Sardina
The Internet age has given new life to flash fiction, a story form that has roots in Aesop's Fables, and has been practiced by authors such as H.P. Lovecraft and Ray Bradbury. A recent Associated Press-Ipsos poll showed that one in four adults read no books in the last year. There is a need to deliver stories in much the same way that the average American gets most of their information – in short bits, at a minimal expenditure of money and time. This explains how the postcard tale, a sub-genre of flash fiction, was born.
Over this past summer, an editor known only as "Minion" hatched a plan to unleash hell on earth. The method of dissemination? Postcards sent via U.S. Mail. After reading several hundred stories, Minion deemed thirteen lucky enough to do his bidding. The rest were consigned to the Lake of Fire.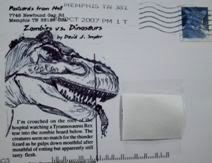 The series began its run in August and ended on Halloween. Each week, a postcard arrived containing a story (limited to five hundred words) and an accompanying piece of artwork. Stories ranged from Nick Mamatas's humorous take on a woman's obsession with death in "One Thumb Up," to deeply disturbing in Dean Cochrane's "Herbert." Andrew Ferguson brought forth a Lovecraftian homage in "The Cabinet of Dr. Calamari." Ann Leckie's "Footprints" was downright creepy. R.J. Sevin's "Dickey Size It" stood out as the story that could have a profound negative impact on the fast food industry.
Some subscribers were also treated to a special bonus tale of murder gone wrong in Paul Lewthewaite's "Dark Wine" as a thank-you for supporting Minion's cause.
Other markets, such as Tin Parachute Postcard Review, have embraced the concept of the postcard tale. Tin Parachute Postcard Review is a bimonthly literary review that combines the work of a different flash fiction writer with art specifically designed or selected to accompany the story.
After reading the Postcards From Hell series, we at Dark Scribe Magazine were interested in learning more about the sub-genre of the postcard tale. "Minion" (whose real name is Jeff Crook) of Postcards From Hell, and Alain Douglas Park of Tin Parachute Postcard Review, were kind enough to share their experiences in working with this story form.
Dark Scribe Magazine: How did each of you come to the decision to begin publishing postcard tales?
Alain Douglas Park: I started TPPR with my wife Ashley Towne, with the idea that art and writing could find a meaningful place in one succinct place. Everyone loves getting mail, especially postcards, and we felt that everyone should love, or at least have the chance to love, reading stories and experiencing art as well. It only seemed natural to combine these things with thought and purpose and then deliver them in the most democratic (and elegant I think) way possible, a postcard.
Jeff Crook: I originally wanted to do an anthology and pay authors professional rates for their stories. But as I crunched the numbers to see what I could actually afford to do, I eventually ended up with flash fiction. Once that was determined, I decided that horror would be the best genre for flash fiction. And once I had determined that the series would include horror flash fiction on postcards, the title Postcards from Hell suggested itself.
Dark Scribe: What are the biggest production challenges that you have faced?
Alain Douglas Park: We're a two-person operation, with a toddler in tow, so really the biggest challenge has been trying to find the time necessary to edit submissions, solicit art, and design each card from scratch. We treat each issue like a work of art. We have each one framed on our office wall.
Jeff Crook: The biggest production challenge was getting 600 words, in a legible font, to fit on a postcard with room left over for the address, return address, postage, and a small piece of art. I considered going with a larger postcard, but that would have limited me to two cards per sheet of paper. I considered several even longer forms, but that would have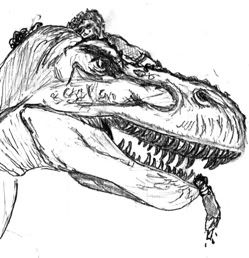 meant I couldn't pay professional rates. My cost margins were close enough at 4 printed pieces per sheet, and the gain in printable space wasn't enough to justify the cost.
Another problem was determining the total number of stories. Postage was the largest cost. I didn't want to charge so much for a subscription that no one would subscribe, so I had to find a balance point where cost and price seemed reasonable. This ended up being so close to $6.66 that I couldn't resist.
Dark Scribe: How many submissions do you receive on average?
Alain Douglas Park: It spikes and ebbs, usually hinging on us getting cited or listed somewhere new online. But if we average it out, it's close to about 25 submissions per issue. So with one story per issue, we accept about 3% of what we read.
Jeff Crook: I received about 360 for this series.
Dark Scribe: What were the biggest editorial challenges that you face?
Alain Douglas Park: The largest challenge and opportunity is matching up the writing with the art. The idea is to have each inform on the other, so there is quite a lot of wrangling to get the right fit for each issue. We have to reject some otherwise great stories and pass up some wonderful art, but in the end it's the combination of the two in a completed card (and the third story that they create together) that is our goal.
Jeff Crook: The biggest editorial challenge was deciding which stories to use. I received more stories worthy of publication than I could publish. I really agonized over the last six or so rejections.
Dark Scribe: Some people in the publishing industry feel that flash fiction is not a legitimate form of storytelling, that writers are doing themselves and readers a disservice by perpetuating a fad. The most common criticism is that a story cannot be properly told in 500 words. What would you say to those critics?
Alain Douglas Park: Ask Hemingway, "For sale: baby shoes, never worn."
Jeff Crook: Some flash fiction that's published isn't a legitimate form of storytelling. It's gimmicky. But when it's done right, flash fiction can tell a powerful story. It's not going to give you the same effect you'd get out of a seven thousand word story, but it's not meant to, and expecting it to deliver like a longer story is where a lot of critics of the form err. Flash is a genre unto itself, somewhere between poetry and fiction. No critic would pan a poem for being a poem. It is what it is. But it isn't a fad. Flash has been around for a sufficiently long time to be past the fad stage. When I was in college, one of my first writing courses had a textbook called Sudden Fiction. That was twenty years ago.
In my opinion, a truly powerful flash fiction story has some common elements. First, most of the story occurs in what isn't there. It is fiction that utilizes negative space as much or more than positive space. It's true that a story can't be told in 500 words - not in the traditional sense of storytelling. So the writer has to expand the space around the words to tell the story. That sounds like a lot of mystical mumbo jumbo, and it is. But that doesn't make it any less true. The story is still told, but most of it happens in the reader's mind, as they unconsciously fill in the suggestive yet empty spaces in the text. Flash is the art of Zen storytelling.
Second, my experience as a writer has shown me that a successful piece of flash fiction doesn't usually start that way. It starts as a longer story. I then intentionally pare the story down to make it fit within a specific word count. I've had four pieces of flash fiction published recently (in Nature, Nature Physics, Bewildering Stories, and an upcoming Horror D'oeuvres). My story in Nature Physics, called Sum of Man, was originally almost 2,000 words long. But to qualify for Nature Physics, it has to be between 850-950 words. So I started cutting. It wasn't easy to excise roughly a thousands words from an already short story. But the final product is exactly as long as it needs to be. Everything I deleted was waste, sentimental fluff and padding. What's left is a story that cuts to the bone - IMO.
Third, I know a good piece of flash fiction when, as Emily Dickinson once said, the top of my head comes off. Or to borrow from Bruce Lee, you get a pure emotional reaction, like a finger pointing at the moon. If you focus on the finger, you miss all that heavenly beauty. I think the critics of flash fiction focus on the finger.
Dark Scribe: How has Tin Parachute been received by readers to date?
Alain Douglas Park: For those that come across it they have nothing but good things to say. Our other main challenge has simply been letting people know that we exist.
Dark Scribe: Do you think you will attempt doing another postcard series in the future? If so, will it be another horror series? What (if anything) will you do differently? If not, why?
Jeff Crook: I hope to do another series in the future, if I can get the money together. I haven't decided yet whether I'll do another horror series, or fantasy or science fiction. The only thing I'd do differently is start with more money going in so it can be properly promoted. On the rare occasions when Postcards from Hell did get a little publicity, I'd see a spike in subscriptions, but there just weren't enough spikes.
Dark Scribe: What kind of stories are you looking for?
Alain Douglas Park: Just plain old great stories. We go for the best that we receive. But even if we get a great story it needs to also spark an image for us that we can then find equally engaging accompanying art. It's tricky to say the least. That said, if the story is about art or imagery in some obvious way it usually doesn't work for us. We, like most readers, prefer to do the work ourselves.
Dark Scribe: We hope that this interview will generate some interest in your publications. Where can our readers find more information?
Alain Douglas Park: Check out our website. Heck, if someone mentions your article with a subscription, we'll extend any one-year subscription to two years, and send all the back issues as well. We want nothing more than to spread the good word of the artists and writers we publish.
Jeff Crook: I've been experimenting with formats for a chapbook to collect all fourteen stories. I don't know yet if it's going to work. Meanwhile, people can order and I'll send them all 14 postcards in a single envelope. I can be reached through my website.
EDITOR'S NOTE: At the time this interview was conducted the future of Postcards From Hell was uncertain. However, DSM recently learned that Jeff Crook has decided to continue publishing flash fiction, though now only in electronic form. Current submission guidelines can be found here.
Posted
on Sunday, January 13, 2008 at 12:03PM
by

Dark Scribe Magazine
in Publishers
|

Post a Comment