By, Vince A. Liaguno
Don't let Chelsea Cain's laid-back demeanor and angelic face mislead you. Beneath the blond tresses and sparkling blue eyes lies the heart of a dark scribe.
A very dark scribe.
And, if the success of her debut novel Heartsick (St. Martin's Minotaur) is any indication, she's just getting started.
Heartsick, which debuted on the New York Times bestseller list at #8, is being hailed as a masterpiece of suspense, a visceral and chilling look into the mind of a female serial killer. And Gretchen Lowell, the twisted antagonist at the center of Cain's page-turner, is being touted as the best serial killer to emerge since the likes of Hannibal Lechter. Sweetening the pot, Lowell, like Lechter and company before her, is headed to a big screen near you, with film rights recently optioned to D eMann Entertainment. Not bad for a Washington-born and bred journalist, raised by hippies, who grew up hosting the neighborhood pet cemetery and later developing a fascination with the notorious Green River Killer.
In an exclusive sit-down with the newest star of literary suspense, DSM gets up-close-and-personal with this fascinating new voice in genre fiction.
Dark Scribe Magazine: Please tell our readers a little something about Heartsick.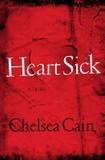 Chelsea Cain: Heartsick is basically a really twisted love story between a cop and a serial killer. Archie Sheridan is a Portland, Oregon detective who spent ten years on a task force hunting a beautiful serial killer named Gretchen Lowell. In the end, she caught him, and tortured him for ten days before mysteriously letting him go and turning herself in. The book picks up two years later. Gretchen is in prison and Archie is addicted to pain killers and still obsessed with her. He is called off medical leave to hunt a second serial killer. Meanwhile, Susan Ward, a pink-haired young journalist for the Oregon Herald is assigned the job of profiling Archie for her newspaper and gets caught up in Gretchen's web of manipulation.
Dark Scribe: Where did the inspiration for Heartsick come from?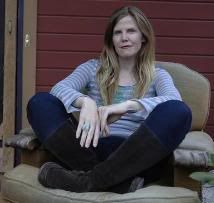 Chelsea Cain: I grew up in the Pacific Northwest when the Green River Killer was at large and that case really captured my attention as a kid. I especially liked the idea that there was this task force of people looking for him, all working really hard on this one case. A few years ago, after they'd finally caught him, I saw an interview with two of the cops who'd served on the task force. I was struck by how much of their careers had been spent hunting this one guy. I immediately thought that it would be interesting to explore that obsession by making the killer the woman, because the relationship gets a lot more complicated.
Dark Scribe: Is it true that fellow dark scribe Chuck Palahniuk pushed you to up the ante on the book's graphic violence? Why was the visceral element so important in telling Gretchen's story?
Chelsea Cain: Yes. Chuck and I have been friends for about seven years now. We're in a writing group together so he read the whole first draft of Heartsick. I had a scene where Gretchen is taking out Archie's spleen while he's still conscious and I had him basically black out as soon as she starts work with the scalpel. Chuck read that and was like, "No, no, no, I want to know what the scalpel feels like. Does the flesh split like the skin of an eggplant?" That's Chuck for you – visceral to the gills. But it was really important, if readers were to understand Archie and Gretchen's relationship, to understand the violence. It makes their flirtation a lot more disturbing. There's another moment in the book where I describe the body of a dead girl on the beach. I really had to force myself to get into the details of what that girl looked like. But it has to be scary – it has to be upsetting. Or the reader won't care as much about catching the person responsible. Plus it's fun to write about gelatinous eyeballs.
Dark Scribe: What do you say about the comparisons being made to Silence of the Lambs? Is this kind of praise pure pleasure or added pressure?
Chelsea Cain: I accept the comparisons giddily. Silence of the Lambs in certainly the Jane Eyre of the thriller set. I guess that makes Hannibal Lechter Edward Rochester. And I expected the comparison, plot wise, since I do have a couple of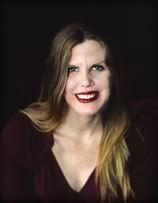 scenes features a cop talking to a jailed serial killer. But frankly, I'm surprised at how often it comes up. I think Silence was such a cross-over that it's one of the few thrillers a lot of people -including book reviewers - have read, so it becomes their only point of reference. But seriously, as any Thomas Harris fans will immediately know my book isn't a rip-off of Silence - it's a rip-off of Red Dragon. (laughs)
Dark Scribe: Why do you think readers are so fascinated with serial killers?
Chelsea Cain: We are such sick fucks, aren't we? Serial killers are scary. We can understand the person who just kills one person. That guy we get. Who hasn't fingered the edge of a butcher knife and had a dark thought about a coworker? But the person who kills lots of people? Strangers? That's a whole other story. Those people are dangerous. Mostly because they might kill us. And they've totally ruined rest stops.
Dark Scribe: Heartsick breaks some conventions in that the male lead is terrorized by a female serial killer. Were there added challenges in writing such a violent female villain?
Chelsea Cain: Yeah, I'm not sure if Gretchen is a step forward for feminism or a step back. I'm surprised there aren't more psychopathic female serial killers in thrillers. I guess it's because there aren't many psychopathic female serial killers in life. I have a theory that there are actually plenty, but unlike your average pudgy white guy who lives with his mom, they're just smart enough to get away with it. Gretchen does fulfill another genre archetype – she's the classic femme fatale. Added challenges? There isn't a lot of real-life source material. So I got to be creative and conjure a woman who killed violently – like a man – because she liked it.
Dark Scribe: Casting time. Gretchen, Archie, and Susan. Who comprises your fantasy cast in a big screen adaptation? Are there currently any plans to bring Heartsick to the screen?
Chelsea Cain: I sold the rights, so we'll see. The production company is really working hard to get it off the ground. I don't really have a fantasy cast. But I love hearing the actors other people imagine. They're all over the place. Which I think calls into question my talent for characterization. Or at least physical description.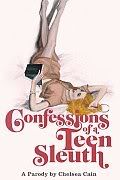 Dark Scribe: Is it true that you wrote Heartsick while also penning Confessions of a Teen Sleuth , your parody of teen mystery maven Nancy Drew which recently came out in paperback? How did you decompress from one project to the other?
Chelsea Cain: Heartsick was my decompression from Confessions. I had sold Confessions on a proposal, so I'd been given an advance to write it. So once it was due, I naturally became immediately very interested in working on something else. Heartsick was my adulterous novel on the side. One I ended up marrying.
Dark Scribe: Do you read much dark genre fiction? If so, who are your favorite genre writers?
Chelsea Cain: I'm a sucker for a good wise cracking PI novel. Chandler, Hammett, Parker, MacDonald. My favorite thriller writer is Val McDermid. I love her Tony Hill/Carol Jordan books. Those books are what inspired me to write Heartsick. I'd read the first three and there wasn't a fourth one out at the time so I wrote Heartsick. If there had been a fourth Tony Hill book I would have just bought that and called it good. So I owe Val McDermid a lot.
Dark Scribe: How has the book tour for Heartsick been going? Does being the face behind such gruesome material predispose you to attracting one type of reader versus another?
Chelsea Cain: I really thought I would have some scary fans. Where are you, scary fans? Because the people who come to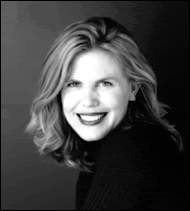 my events are exceeding nice and very normal seeming. Though I have noticed that every single person who approaches me to say something nice about the book opens with, "I never read this kind of book, but…" Still thrillers are one of the biggest selling genres, so clearly some of them are lying. (laughs)
Dark Scribe: The out-of-the-box success of Heartsick undoubtedly raises the question: will we be reading more about the (mis)adventures of Gretchen Lowell a la Hannibal Lechter?
Chelsea Cain: You will be. I have a three book deal, so there will at least be that many. I've just finished Sweetheart, due out in September 2008. All the books will feature Archie, Gretchen, Susan and others from Heartsick. I love these characters and plan to write as many books about them as I possibly can until you all get very angry and annoyed with me.
Dark Scribe: What's life like for Chelsea Cain outside of literary life?
Chelsea Cain: I have a daughter who is almost three so there is a lot of playing with Lincoln Logs and pretending to drink tea from wooden cups. I also write a column for The Oregonian. And my husband and I watch a lot of movies. We are total movie geeks. He is not happy if he can't watch at least two movies a day. I like to watch one every other day. That leaves me room to watch surgical reality shows on TV. There's nothing like watching brain surgery in bed with a glass of wine. But maybe that's just me.
Dark Scribe: What are your thoughts on success – the reality versus the expectation?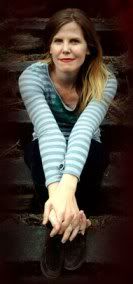 Chelsea Cain: I really didn't have any expectations, so I am pretty floored by the whole shebang. I spent my early childhood on a hippie commune, and I always assumed that I would live an artist's life. I made that compromise long ago. I decided to write. And in my mind I gave up security to do that. And then, everything changed. I live in a house with columns now. Huge ionic fucking columns. It's been an adjustment. But I think I can get used to it. Or at least drown my anti-capitalist sorrows in opulent decadence.
For more about Chelsea Cain and her novel, Heartsick, visit her official website.
Read DSM's review of Heartsick.
Bonus: Chelsea Cain's 'Heartsick' Tour of Portland, Orgegon...
Posted
on Wednesday, November 28, 2007 at 07:23AM
by

Dark Scribe Magazine
in Authors
|

Post a Comment