By, Vince A. Liaguno
Meeting Alice Henderson in person, first impressions are deceiving. Indeed, the personable and gracious Henderson is the epitome of youthful Midwestern charm, but a second glance reveals an experienced cross-country traveler with a penchant for the creatures that inhabit dark mythology.
And while her extensive traveling to remote wilderness destinations ranging from Death Valley to the Badlands would seemingly make her an ideal candidate to host her own Travel Channel show, it's dark genre fiction where she's poised to make her home. With the release of Voracious (Jove), Henderson melds her love of the great outdoors and her background in spooky mythology to create a well-received tale of a shapeshifting creature that terrorizes a young hiker against the stunning backdrop of Glacier National Park.
DSM had the opportunity to catch up with Henderson during a recent gathering of horror's elite at Stoker Weekend in Burbank, California, where the dark scribe participated in a panel on breaking into the mass market, signed copies of Voracious for eager readers, and attended the Bram Stoker Awards – one of which is clearly in her future.
Dark Scribe Magazine: Tell us about Voracious.
Alice Henderson: Voracious is set in Glacier National Park, and pits a hiker against a shapeshifting creature who is extraordinarily cunning. I was camping in Glacier National Park when I first conceived of the book. A ranger came by and warned me that an ice-dammed lake above my campsite might break free, given the unusually warm temperatures we'd been having. I thought that would make an exciting scene for a novel, and so wrote the opening scene of Voracious. Then I moved my tent.
Dark Scribe: Are shapeshifters set to become the new vampire?
Alice Henderson: Just wait until you see what's coming next(!).
Dark Scribe: You've also penned two novels in the Buffy the Vampire series – Portal Through Time and Night Terrors. We'd imagine that there were some creative constraints with the Buffy books. How different was the Voracious writing experience?
Alice Henderson: I had a lot more freedom writing the Buffy books than you might think. While I was
certainly using characters that had already been established on the show, I was able to create whatever plots and additional characters I wanted. Fox Entertainment was very open to what I wanted to write, and didn't make me change anything. Of course, with Voracious, as with any non-media tie-in novel, I had the additional freedom to create all the characters as well as the plot.
Dark Scribe: As a seasoned traveler, how do your travels inform your writing?
Alice Henderson: Nothing inspires me more to write than being on the road or out in the wilderness. Seeing new things everyday and exploring new places gives me this boundless source of creative energy that I can funnel into my writing. To then be able to set a novel where I am staying gives the setting that much more life. I wrote huge chunks of Voracious while camping in Glacier National Park. For my Buffy novel Portal Through Time, which is a time travel novel, I visited the Shiloh battlefield, where a portion of the book is set.
Dark Scribe: Is there a favorite destination spot that you plan on using as the setting for a future novel?
Alice Henderson: Antarctica is the next setting I want to use.
Dark Scribe: Your Master's thesis was rather interesting. Tell us about that. Where did your love of folklore and mythology come from?
Alice Henderson: I grew up reading about mythology, folklore, and the mysterious. My father had a vast library of books on cryptozoology – UFOs, Atlantis, the Bermuda Triangle, hauntings and unexplained phenomenon. My master's thesis in folklore involved tales of cryptozoological creatures such as Bigfoot, El Chupacabra, lake serpents and more. I interviewed people who had seen such creatures, learning when they told the story of their sighting, to whom, and under what circumstances. I asked how the sighting impacted them, how people treated them after hearing the story, and what they thought about what they'd seen. I addressed the idea that many people need the mysterious, the inexplicable, in a world ruled by a scientific paradigm. Many of the people I talked to were glad (though many scared, as well) at having seen something unexplained. To them, magic was still afoot in the world.
Dark Scribe: What's your Star Wars connection? How did you come to work at Lucasfilm Ltd.?
Alice Henderson: After graduate school, I really wanted to move to San Francisco, that enchanted city on the bay. I applied at LucasArts Entertainment, the video game arm of the Lucas family of companies. They hired me and I worked on a series of games, including Star Wars: Battle for Naboo; Star Wars: Galactic Battlegrounds (my personal favorite); Star Wars: Super Bombad Racing; Escape from Monkey Island; and Star Wars: Obi Wan. I wrote manuals, worked as a tester, and started writing video game strategy guides on the side for Prima, which is part of Random House. It was wonderful to work with so many other creative people in such a dynamic setting.
Dark Scribe: Tell us about your contribution to last year's Mystery Date Anthology.
Alice Henderson: The theme of the anthology was dates that turn out in unexpected ways. I was invited to contribute a story and wrote a grisly piece that takes place in a haunted house in San Francisco. I have some fantastic company in that anthology – some truly talented writers.
Dark Scribe: Any horrific dating adventures of your own?
Alice Henderson: I could tell you, but I prefer to leave my skeletons in the closet…literally.
Dark Scribe: Has writing been a lifelong passion?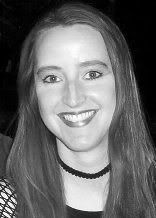 Alice Henderson: I've been writing since I was a little kid. Started turning out stories when I was six – mainly detective stories, sci-fi and horror. I used to write plays with my childhood friend Becky and we'd put them on for our fellow elementary school classmates. I wrote my first novel in seventh grade and my second in high school. Earned my B.A. in writing and continued writing novels and short stories. Wrote screenplays and novels while earning my master's degree.
Dark Scribe: What can you tell DSM readers about the next novel? We like our teasing tidbits!
Alice Henderson: I'm in the early stages of a follow up to Voracious, and I'm really excited about the direction it's going in. I'm also working on a thriller based on a scientific premise, which features the Antarctic setting.
For more about Alice Henderson, visit her official author website.
Purchase Voracious from the DSM virtual store.
Posted
on Thursday, July 2, 2009 at 08:24AM
by

Dark Scribe Magazine
in Authors
|

Post a Comment