By, Vince A. Liaguno
If there's a future how-to manual on entering the fiction market properly, Joel Sutherland is the guy to write it. The quiet, unassuming dark scribe is the epitome of manners and grace, deft at self-promotion without crossing over into overzealous territory. And while many authors start out all polite thanks and humble gratitude only to see that congeniality ebb over time and with success, one suspects Sutherland will actually remember where he came from.
But don't let this mild-mannered librarian's boy-next-door looks and matching good manners fool you.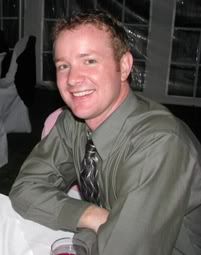 When he's not staging a lively storytime for toddlers at the Canadian library in which he works surrounded by his literary inspirations, he dips his writing quill in blood. Yes, beneath the clean-cut appearance and genteel demeanor lurks a darkness — one that he's channeled into Frozen Blood, his well-received debut novel from Lachesis Publishing.
Sutherland recently sat down with DSM to chat about his unexpected freshman success, letting go of literary inhibitions, and how a communicable viral disease is credited with his foray into writing.
Dark Scribe Magazine: Tell us about your debut novel, Frozen Blood.
Joel Sutherland: I've been having difficulty pining Frozen Blood down and defining it lately — every day I think of it as a different type of novel. It's a haunted house story, a tale of the apocalypse, an eco-thriller – global warming is a hot topic these days (laughs) – a book about revenge and greed and grudges and addiction and insanity and survival and cabin fever...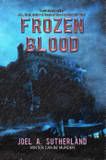 The one thing that it is, above all else, is a novel about family. Families that tear each other apart and then, hopefully, find the strength and courage to build them back up. The family members in Frozen Blood do some terrible things to each other, but the challenge was to make them likable, or at least relatable. Of course, this is a horror novel, so things don't necessary end that well between them. When I tell this to my own family, by the way, they look at me with pure horror on their faces, and then someone inevitable asks, "Um, people aren't going to think this is how we treat each other, are they?"
They don't like it when I smile and laugh without answering.
Dark Scribe: What was the inspiration behind the book?
Joel Sutherland: Back in the 90s, my hometown, Ottawa, was crippled by a storm so huge it requires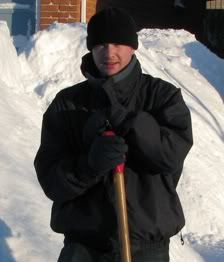 capitalization: the Great Ice Storm. A state of emergency was declared when five inches of ice coated the city, causing trees, roofs and power lines to collapse under the weight. My house was without power for more than a week, while some people in remote locations were without power for over a month. The military was called in, we were advised to stay indoors, school was cancelled for seven days, and canned goods and generators flew off the shelves. In total, there were 35 deaths, 945 injuries and 5 to 7 billion dollars in damages as a result of the storm.
To a seventeen-year-old kid in his last year of high school, it felt like the apocalypse. It was exciting, scary, and incredibly beautiful — seeing everything encased in ice was like a scene out of The Chronicles of Narnia.
I like to think of the storm in Frozen Blood as the Great Ice Storm on speed.
Dark Scribe: How long did the book take to write? What was your writing process like?
Joel Sutherland: The entire process, from conception to publication, has been close to three years. I initially wrote a short story about a family trapped inside during an apocalyptic hailstorm and sent it to Lachesis Publishing for an anthology they were publishing. They turned it down because it didn't fit with the style of the other stories, but enjoyed the idea enough to ask if I'd be interested in extending it into a novel. The trick was turning 3,000 words into 80,000, and for a while I wasn't sure how to do it, but fortunately I had enough of those 'aha!' moments spring into my mind to structure a satisfying novel.
I'd say I spent about a year and a half outlining, writing, and rewriting the novel, then another year and a half editing it, going through numerous drafts. My editor, Louise Bohmer, was instrumental in this process. She's also – as anyone who has met her will attest – a fantastic person, and the book wouldn't be the same without her input.
I wish I had more of a set writing process, as some of my writer friends do, but I'm much more of a play-it-as-it-comes kind of guy. I try to write every day, but sometimes that means writing in the morning, sometimes in the evening, and other times I awake in a cold sweat, middle of the night, and race for the nearest computer/notebook/scrap of garbage to jot down a few ideas or even write an entire chapter. When inspiration calls, you've got to answer.
Dark Scribe: Who was your favorite character to emerge from Frozen Blood?
Joel Sutherland: Easily, the main character, Tara, but I'll admit that's a tough question. Here's the thing: none of the characters in Frozen Blood are perfect. None of them always say the right thing at the right time, none are without flaws, and certainly none are angelic. But that's life. Messy and difficult. Very little black and white, but plenty of gray.
That's not to say that the characters are completely unlikable, or that there's no one to root for. Some reviewers have mentioned that they were amazed that the book not only has a sympathetic protagonist, but a sympathetic antagonist, as well. That was music to my ears. You hate some of the things they do or have done, but you don't hate them altogether. Tara, my favorite, is so beautifully screwed up that I can't help but feel sorry for her, desperately wanting her to pull everything together in time.
Dark Scribe: The book has generated some very good buzz, even qualifying for the preliminary ballot in the Bram Stoker awards. Surprised?
Joel Sutherland: Beyond words. Although it's not a nomination, appearing on that list is easily the
highlight of my writing career to date. Writing can be such a solitary pursuit, and often it's impossible to read one's own work objectively. I have stories I love that have yet to be accepted, and stories I've felt were good – but not my best – that have not only seen publication but have received glowing reviews and feedback. It's hard to guess how readers will respond.
I'm very proud of Frozen Blood, and I have a lot of faith in it. It's amazing that people are digging it. The buzz, the reviews and the preliminary ballot achievement have made me sleep a little easier at night, to say the least.
Dark Scribe: Writers tend to be their own worst critics. Do you tend to see the flaws in your own work?
Joel Sutherland: Yes, and once I've spotted a flaw, it's all I can see! Have you ever read interviews with movie stars who said he/she couldn't bear to watch their own films? I've tried that with my writing, and man, have I ever failed in spectacular fashion! Try as I might to ignore it, it's not long after my contributor's copy arrives that I'm pouring over every word of my own work.
After some consideration, I think those movie stars are liars.
Dark Scribe: What was the biggest obstacle you've had to overcome with your writing?
Joel Sutherland: There have been many lessons learned and obstacles overcome over the years, but the biggest one that comes to mind is learning to free my inhibitions while writing. There are things that happen, characters' thoughts, and language used in Frozen Blood that I blush when I picture certain family members, friends and co-workers reading it. I had to constantly remind myself that this is a horror novel, through and through, written for horror fans, and to ignore the voice in the back of my head trying to tone down some aspects and censor others. Hopefully people that know me personally will be able to separate 'Joel — husband, son, brother, friend, librarian' from 'Joel — horror author', and realize that I'm not as crazy as that book might make me seem!
I've often told people close to me that I don't expect them to read it — but they better well buy it!
Dark Scribe: Which writers do you most admire or draw inspiration from?
Joel Sutherland: The list is a long one and is constantly expanding, so I'll mention a few of the writers I've recently discovered and their books that I've drawn inspiration from. John R. Little, author of Miranda and recent winner of [DSM's] Black Quill Award. Gregory Lamberson, author of Johnny Gruesome and another recent winner of the Black Quill Award. Sarah Pinborough, author of The Taken. And Gord Rollo, author of The Jigsaw Man. I have no doubt Pinborough and Rollo will one day be honoured with a Black Quill Award.
Dark Scribe: Tell us about your background and a little about a day in the life of Joel Sutherland, working librarian.
Joel Sutherland: I grew up in Mississauga and Ottawa, played a lot of baseball, collected a lot of comics, took part in a lot of snowball fights and hid under a blanket during a lot of horror movies. I guess you could call mine a typical childhood, and a good one to boot. Nothing traumatic happened to push me into horror writing, as I hear so many reporters ask of horror writers.
Once I realized that I was far too, um, Canadian to make it as a professional baseball player, I turned to another one of my loves: film production. I entered the Film Production program at York University in Toronto, had a great time, and graduated with dreams of landing a string of jobs in the industry. As it turned out, I graduated just after the SARS outbreak hit Toronto, shutting down most of the American productions in "Hollywood North". I had one job, dolly grip for a WWE commercial, and that was it. To pass the time I wrote more fiction than I ever had, and that led to me getting published. It was an unusual path, but I'm thankful for it.
Shortly after graduation I was hired as a librarian and haven't looked back since. Although it can be challenging for a bibliophile to work while surrounded by books — kind of like an alcoholic working in a liquor store — it's a dream job. I discuss books with other bibliophiles, place the best books into the hands of reluctant readers, assist the public in all avenues of information gathering, and even run a weekly Family Storytime. One day, a teenage boy wandered up to my desk and asked where the "classics" were kept. I explained that classic literature would be found with all the other fiction books, organized alphabetically by author's surname. I then asked if he had any author in mind, expecting him to say Jane Austin, Charles Dickens, Ernest Hemingway, someone of that sort.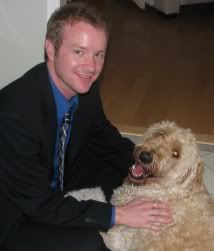 He looked at me straight faced and answered, "Yeah, Stephen King." That was priceless.
When I'm not working or writing, my interests lie in spending time with my wife, Colleen, and our Goldendoodle who doesn't know he's a dog, Murphy. Somewhere in the cracks of my free time I try to cram in some schoolwork—I'm close to completing a Masters in Library and Information Studies by correspondence from the University of Wales, Aberystwyth. I'm busy, but I'm happier that way.
Dark Scribe: What's next on the literary horizon?
Joel Sutherland: A few of my short stories, as well as my first audio podcast, will appear in anthologies and magazines in the coming months. I worked on polishing Frozen Blood to a high sheen as close to the release date as I could get, so I haven't had much time to work on my next project yet. I'm currently outlining three novel ideas, so it will be exciting to discover which one emerges as my favourite. I've also been bouncing ideas back and forth with a talented and successful friend to co-author a novel. However, I think the very next project I'll tackle is a novella idea I'm rather fond of.
Like I said, busy. But happy.
For more about Joel Sutherland, visit his official author website.
Posted
on Sunday, February 8, 2009 at 12:48PM
by

Dark Scribe Magazine
in New Blood
|

Post a Comment