Interviews with Dark Fiction's Newest Talents
By, Vince A. Liaguno
"I live in the house I grew up in which I inherited after my Mom passed away and she haunts it...but I rather like that," Lisa Mannetti says as DSM settles in for a chat with the author of The Gentling Box. In
fact, Mannetti is full of unabashed candor about hauntings and psychic experiences.
It's this frankness coupled with a scholarly background in 18th and 19th century English literature that informs her Bram Stoker Award-nominated debut, in which the fledgling scribe conjures a magical gypsy mythology steeped in historical fiction.
In her first interview with DSM, Mannetti dishes on how childhood fears came to inform her writing, palling around with Stephen King's assistants, and who followed her home from Lizzie Borden's house.
Dark Scribe Magazine: Tell us all about The Gentling Box.
Lisa Mannetti: The Gentling Box is set in 19th C. Hungary and Romania. The protagonist, a half-gypsy horse-trader named Imre, realizes that in order to save his wife and his daughter he must do the one thing he's sworn he'd never do — which is to 'gentle' them. In fact, Imre has never even 'gentled' a horse — which involves using a wooden and metal device which essentially lobotomizes them.
When the novel opens, he is suffering from a fatal disease — glanders — which is essentially a flesh-eating disease which afflicts both horses and humans. His wife, Mimi, has been 'taken over' by a choovahanee or sorceress named, Anyeta. Mimi has been struck mute and believes she has become some kind of animal; all her own gypsy magic has fled and she is begging him to use a Romany talisman known as the hand of the dead to cure himself and to save their young daughter, Lenore. Imre knows that to claim the hand of the dead will mean that unless he wants to suffer undying torment, he will also have to be "gentled."
Three or so pages later, Imre, not sure what he will do and, knowing he is dying, begins to narrate the intricate story that has led up to this horrendous situation.
Imre loves his wife and his daughter deeply, yet in the year he tells us about before we go back to the "present" and discover what he decides to do, we see him seduced by a childhood love and engaging in wild and passionate sex, watching his small circle of friends beset by the sorceress and trying to find a way out from under the extreme pressure he experiences.
It's a horror novel with many supernatural events, but it's realistically written and I've been told it's a page-turner that hooks the reader right from the outset. It also has moments that have been deemed "gross" and my first agent actually lost her lunch...literally. That said, it's also written with the discerning reader in mind and it's literary to the extent that I paid very careful attention to the language and to character development and to details. It also contains many poignant moments that might just make a reader reach for the Kleenex.
There are no punches pulled: the novel is fully resolved and the final chapters pick up the threads Imre wove from the outset.
Dark Scribe: How did the idea for the book come about?
Lisa Mannetti: I've always been afraid of gypsies. [It's] a childhood fear my mother sort of encouraged (laughs), including dressing me up as gypsy for several years running on Halloween and telling me to watch out for a certain house where gypsies lived because they stole children – abandonment issues are sort of a big in my family – but I was also mesmerized by the play Equus in which the horses' eyes are put out and equally intrigued by the fact that Tennessee Williams (my favorite playwright) was horrified by the fact that his sister, Rose, was lobotomized at a time when surgeons and psychiatrists did not really understand the full impact of what was being done to the patients. I also had a friend in high school whose mother was a nurse and whose father was a doctor, and this poor woman endured many shock treatments. At that time there wasn't a very good gauge of how much treatment is effective and how much treatment would result in a damaged personality. It terrified me as a teenager, especially since I thought her husband, as a physician, was on the cutting edge. He was on the cutting edge all right....but this formerly-brilliant nurse was reduced to the human equivalent of rags.
Dark Scribe: There's quite a bit of buzz about the authenticity of the world you create in The Gentling Box. How much research went into the book and what was the research process like?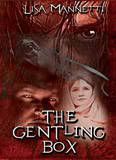 Lisa Mannetti: I did a lot of research, but I have a Masters degree in 18th and 19th Century English literature from Fordham University and basically every paper we turned in had to be original work that could potentially be published…so I like research and I'm used to it. But I like it to filter down into the book or story so that it doesn't feel extraneous. I like to make the "history" part of the current action and, while it's ancillary to the story that's being told at rocket-sled pace, it contributes another level of intrigue and interest to what's going on with the characters and the story itself.
On a lighter note, I was living in Dutchess County when I wrote this book and the librarians were hunting up sources from the smallest libraries in the system, from Vassar College to Westchester and NYC to supply me with books about gypsy culture, language and 19th century Hungary and Romania. I probably only used about ten percent of what I learned, but I sure as hell enjoyed reading up on the other ninety percent!
Dark Scribe: The book is garnering some excellent reviews. Do you find this type of praise intimidating in terms of crafting a follow-up?
Lisa Mannetti: I think every author worries about that. Realistically, there have been some great books out there that were one shot deals: But would anyone say they're sorry that Harper Lee produced To Kill a Mockingbird? You have what you have in you; you do what you can do.
I brought the book I'm working on now, The Everest Hauntings, to a boot camp session sponsored by Borderland and I was told by one of the instructors that I have created something completely unique, something that has never been done before.
That's plenty for me to have faith and keep writing and rewriting and keep going. I'm obsessed with Everest and have been for years and own and have read more than 50 books on the topic and anything else that is remotely related.
Sometimes weird coincidences pop up; when I was reading K2 The Savage Mountain for background, I discovered that one of the climbers who was supposed to go on the trip in the 1950s died on another mountain just months before the expedition. Richard Burdsall grew up in my town and my father worked for his father. It never occurred to me, but ironically, on my daily walks, I pass a street named for him and his family.
Dark Scribe: Which was your favorite Gentling character to write?
Lisa Mannetti: Wow. This is a toughie because my initial agent on the book who repped some pretty
cool writers had me rewrite it completely, at which point I tossed everything but the idea of gentling, the concept of gypsies and the co-mingling of Romany culture with the 'hand of the dead.' I mean, it all went. Every bit. I even changed the character names. I can't actually narrow it down to one...but I will say my faves are probably Imre and Constantin (a clairvoyant). But, I do like all my characters...Anyeta, because she is so evil, was also a great character to work with. Ditto Zahara, who seduces Imre.
Some of my characters do despicable and very manipulative things...but that's what draws me – and hopefully – the reader.
I'm lured by the dark side. Someone like Bernie Madoff gets right under my skin....think of him pretending to be friends with all those people all those years and wielding enough power and charisma to draw in someone like Elie Wiesel. Blows my mind.
Dark Scribe: Write the book and edit later, or edit as you go? Which approach works best for you?
Lisa Mannetti: Each book has its own mandate. You have to do whatever works for you at the time to get this book down. Sometimes you need to tinker — your mind is actually taking a break from the big picture and keeping you plugged into the story while your subconscious works out the next set of details. Sometimes you need to zoom ahead. I've been known to get up in the middle of the night and go jot down a paragraph I believe at the time is essential. In my experience, there is no one way, not even for any particular writer. It's the story and the book that demand a response from you as a writer. And the story and characters and the book have their own way of letting you know how to tell it. The story inside the book will also let you know when you are on target and you can zoom ahead.
Dark Scribe: We heard through the grapevine that you've got something of an obsession with famed axe-murderess Lizzie Borden. Any plans on channeling that fascination into a future project?
Lisa Mannetti: Lizzie is always in the back of my mind. I have a non-fiction article that was published in Spooks! (Twilight Tales) which garnered an honorable mention in one of the Year's Best Fantasy and Horror collections and which I'm very proud of. I have been obsessed with Lizzie since I was about 19...thanks (again) to my mother who bought me a terrific and well-written book at a Vassar book sale by Victoria Lincoln. In fact, the first time I went to visit the Lizzie Borden House, I was driving along with two companions in my car I'd never met — two women who showed up for coffee and doughnuts for Necon one year and who decided, like me, they should skip miniature golf and scuttle through the shadows on the dark side by visiting Lizzie. As I was driving along and asking where they hailed from they mentioned Bangor, Maine. I wanted to know if they ever saw Stephen King around town: They turned out to be Stephen King's assistants — and that was pretty wild for a suburban Catholic school girl. Anyhow, I have been back many times, and, yes, I do have psychic experiences when I visit and many of them have been very odd and sometimes scary as hell. I have a short story on my Chancery House website about one trip, and I'm sure there's at least a Lizzie novella cooking down the road. After all, she has followed me home on more than one occasion and I love writing about her.
Dark Scribe: What do you do when you're not writing?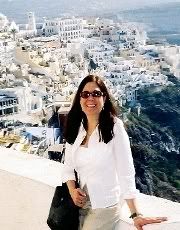 Lisa Mannetti: First of all I read...I cannot go to sleep without reading. This is a habit I had in childhood and when my parents would come upstairs after the 11:00 news, I would turn out the light in my room and read with a flashlight under the covers until they were asleep and I could turn on my bedside lamp again. Even as a kid I often read till the wee hours. I also sneaked reading fiction during the day by hiding paperback copies of Wuthering Heights, Frankenstein, and Dracula inside weightier textbooks like geography, world history and earth science. But I also paint and I sculpt (clay) and am psyched because am taking a new clay course this summer. I really like being around people so I tend to be very social after the day's work is done, whether it's visiting with friends or yakking on the phone.
I also really like visiting other places. I've travelled a lot with my Dad since my stepmother passed away in 2004, but I also lived on my own in an apartment in Venice (off season — no tourists) for four months and taught myself Italian. I shopped with the locals for pesce and verdure and carne and it was in 2000 when the dollar was so strong that it actually cost me less to live there than at home.
I'm a great walker, but I haven't been good at any "sport" since grammar school when I was the best jump roper in the class (laughs).
Dark Scribe: What's 'The Chancery House' and how did that endeavor come about?
Lisa Mannetti: In 2002, there were some very interesting sites suddenly appearing on the web. Hard to believe it's already ancient history! Anyhow, I wanted to create a virtual haunted house. I wrote a YA novel called The New Adventures of Tom Sawyer and Huck Finn that was inspired by these two wonderful cats I had — Tom and Huck. In the book, they are cats who are reincarnated as familiars to a witch, and when she loses her powers they 'help' out by opening an inn called — you guessed it — The Chancery House.
The book itself is very "Twain-like" – of course you know Twain loved cats – and the site offers everything from a virtual haunted house, to free Tarot Scope (a skill I picked up writing The Gentling Box) to horror fiction, links to horror writers, free gothic e cards (I do all the photography and graphics); cemetery art (photos I've taken at cemeteries around the world) and a whole lot about the Lizzie Borden House.
When I first started, Gina FioRito, a friend of mine, really got me going because I knew nothing about how to design web pages and she got us up and running. I pretty much maintain all nowadays, but as much as I love the site and we've had 3.5 million visitors (I use Stat counter so forget whatever the website says because it resets all the time [laughs]) it is taking a back seat to my writing.
Tom, the wittiest cat in the world, and Huck, the sweetest cat, inspired both the book and the website. They were both smart as hell and very mischievous.
Dark Scribe: What can you tell DSM readers about your next project?
Lisa Mannetti: Well, my current agent is shopping a macabre gag book I did called 51 Fiendish Ways to Leave Your Lover. Glenn Chadbourne did the illustrations and it's a very funny book. Essentially, it draws on the humor we experience when we've been dumped or have wanted to get rid of someone who has driven us to the brink. Glenn is just amazing. He did 51 illustrations, plus the cover, in record time. He and I have been working on a Tarot Deck for a few years called The Tarot of The Brothers Grimm (with Robert Dunbar as co-author).
I've also served recently as guest editor for Terrible Beauty, Fearful Symmetry (DarkHart Press) that should be out any week now, and we have some wonderful stories from James A. Moore, Edward Lee, Hal Bodner, Angeline Hawkes, Lisa Morton, Weston Ochse, Matt Warner, John Everson and lots of others. The cover was done by Daniele Serra and it's just stunning. The intro is by David Thomas Lord.
Mostly though, I am thinking and working on The Everest Hauntings, my next novel — which is a ghost story.
Dark Scribe: Best moment so far in your writing career?
Lisa Mannetti: Well, I have two: Finishing The Gentling Box after my former agent made me rewrite it; and being nominated for a Stoker Award. I truly almost fell out of my chair when I read the HWA newsletter!
For more information on Lisa Mannetti, visit her official author website.
Posted
on Monday, May 11, 2009 at 11:15AM
by

Dark Scribe Magazine
in New Blood
|

Post a Comment