Interviews with Dark Fiction's Newest Talents
By, Vince A. Liaguno
Few first-time authors shoot faster out of the gate than Warren Fahy. Fragment, his debut novel, is a science fiction-horror-thriller hybrid that's quickly become the buzz book of the summer. With across-the-board raves from venerable review outlets like Publisher's Weekly, Wall Street Journal, and the Library Journal, Fragment is being hailed as a modern-day variation on Jurassic Park, its author a worthy successor to the late Michael Crichton. Heady stuff for a fledgling dark scribe indeed.
But if the world at large views Warren Fahy as an overnight success, the writer himself chuckles silently with the knowledge that it took 27 years to arrive. Having done stints as a bookseller, database editor, statistical analyst, and video game scribe, the San Diego-based Fahy knows a thing or two about determination and perseverance. His first two novels – both of which he categorizes as his attempts at the Great American novel – failed to catch the interest of publishers, so the weekend naturalist turned his attention to commercial fiction. The result was an exploration of a twisted ecosystem with a giant evolutionary hypothesis at its center: what if a fragment of Earth's development veered off on its own course and was able to advance – unseen and uninterrupted by human involvement – over millions of years?
Now, with Random House throwing a promotional budget behind the book (including a series of webisodes) many seasoned writers have never seen and merchandising on the way, news of a big-screen Hollywood adaptation seems moments away. Dark Scribe Magazine wanted the scoop on this emerging talent and sat down with Fahy during his whirlwind promotional schedule to learn more about this scary otherworld he's created.
Dark Scribe Magazine: Tell us about Fragment.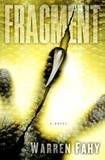 Warren Fahy: Fragment is an adventure novel in the tradition of Conan Doyle's The Lost World or Jules Verne's Mysterious Island updated with modern science, reality television, and lots of very scary monsters. As a lifelong science buff, I set out to write a novel that was pure fun, discovery, and suspense with the fate of the world hanging in the balance as two worlds head for a cataclysmic collision. And I wanted all of it to play out with the verisimilitude of a Discovery Channel documentary.
Dark Scribe: What was your inspiration for the novel?
Warren Fahy: I have always been enraptured by the life we share our planet with, which, as new discoveries are made, is always staying way out ahead of our imagination. The dynamo of evolution endlessly generates incredible life forms and discoveries are being made every day that simply boggle the mind. It occurred to me that, with space travel so forbiddingly difficult and the possibility of realizing it so far flung into the future, why not take a fragment of life on Earth on a separate trajectory for hundreds of millions of years and create an alien world right here in our own backyard.
Dark Scribe: Who was your favorite character to write?
Warren Fahy: Thatcher Redmond is an opportunist who smuggles in his own agenda while disguised as a paragon of virtue and a crusader for the planet. In this sense, he resembles an angler fish, who dangles a juicy worm that is irresistible to the less devious fish around him and then consumes in one gulp any who rise to the bait. But it's a toss-up for me, which was my favorite, because I really enjoyed writing Cynthea, the desperate reality show producer. She's a survivor who realizes she's becoming extinct as her biological clock runs out and will do anything to survive in the eat-or-be-eaten jungle of the Darwinian television business.
Dark Scribe: The novel has generated some impressive reviews, with comparisons to Jurassic Park and more than one mention of you being a worthy successor to Michael Crichton. As a first-time novelist, do you worry about such comparisons coming so early in your career?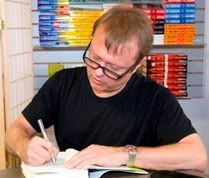 Warren Fahy: Wow, good question. I am taken aback by it, of course. My focus is more on biology than technology, but I understand the comparison to Jurassic Park, of course. The story is set on an island populated by monsters, though the world is utterly alien and has nothing to do with the meddling of humans. Crichton did pioneer the modern science thriller and I owe him a debt of gratitude for writing such enjoyable books. I read The Andromeda Strain when I was 13, and Jurassic Park and The Lost World, when they came out, and I found them to be absolutely thrilling and wonderful. I think there are differences, of course—we evolved along very different paths as writers. Obviously, his passing left a huge vacuum people are eager to see filled.
Dark Scribe: What was your writing process like? Were you a full-time writer during the period you wrote Fragment?
Warren Fahy: I was a full-time writer, writing story and dialogue for Rock Star Games' Red Dead Revolver and character dialogue for Wowwee Robotics toys. So I would write spaghetti western dialogue or character comedy all day, then work on Fragment all night. Then drop dead to sleep for two days a week. A lot of research was involved as I wanted to go as far out as I could and still not compromise the sense of absolute reality, so that involved a lot of research and consultation with biologists, geologists, artists, etc. Since I was not working with dinosaurs or something everyone could automatically accept as real, the challenge was to make them feel just as real as something you might find under a rock.
Dark Scribe: How informative was your experience as a video game writer on the process of novel writing?
Warren Fahy: I wrote about 700 pages of dialogue for Red Dead Revolver with David Ferris, and it all had to be punchy and fun and funny, or colorful and compelling and dramatic, and I also had a hand in organizing the entire story from what had started with very different sensibilities, originally. So it was good practice for setting scenes in motion to propel the story forward and for keeping things to the point and on target throughout. It was a great experience for a journeyman writer, and the guys at Rock Star are serious pros so we got along fine. I was happy to see the game outdo expectations and look forward to what they do with the sequel.
Dark Scribe: There are some impressive evolutionary theories at play in Fragment. How much research went into the book to make these come across as credible as they do?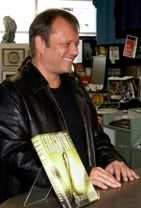 Warren Fahy: Lots. The more effortlessly that comes across in the reading, the more effort went into the writing. It was important for the character of Geoffrey to be a modern-day Professor Challenger, which is not an easy thing to do now that science has progressed so far since Conan Doyle's time. So he had to advance theories that took the reader out of the comfort zone to stretch the brain and get everyone inside the mind of a biologist, but the theories themselves had to be credible enough to be dreamed up by a scientist in the modern day. The goal was to bring the reader to a state of understanding the forces at work in evolution, how certain facts of life like sex and death can play an enormous role in the shaping of life itself. Once the dynamic forces involved were explored so that readers could get the hang of thinking out on the edge of theory, they would be limbered up for the dash across Henders Island. And hopefully never look at the world around us the same way again.
Dark Scribe: Who are your literary inspirations (authors and works)?
Warren Fahy: My favorite book is Les Miserables by Victor Hugo, but I love everyone from Raymond Chandler and Charles Bukowski to Martin Amis and Hunter S. Thompson. Love Ian Fleming, and Flaubert, and Asimov and Tolkien and Eco. Conan Doyle's Sherlock Holmes fed my brain as a lad, love some Hemingway to death. The Fountainhead was a formative book when I was a young writer. I recently finally finished The Odyssey, and before that The Argonautica, which could be said to be the first books ever in the genre of Fragment, in terms of monster islands. And I can't leave out Mark Twain.
Dark Scribe: Clearly, the book is Hollywood-bound. Having a bit of fun, slip into our make-believe casting director's chair and tell us who you see playing your various characters.
Warren Fahy: Oh, that's always fun. I can't speculate about Hollywood too much. It's like predicting the weather in London; just bring your umbrella. What I can say is that I imagined certain people while I was writing Fragment. I thought of John Hurt or Brian Cox as Thatcher Redmond, Sigourney Weaver or Annette Bening as Cynthea, Will Smith as Geoffrey, Andy Dick as Andy. A young Scott Glenn as Zero, Bruce Campbell as Briggs, Nell as a mix between Jodi Foster and Julianne Moore, and heck, since we're dreaming, Sean Connery is Captain Sol!
Dark Scribe: What are you working on now? Any plans to revisit Henders Island in the future?
Warren Fahy: I'm actually writing the sequel now, though Henders Island itself won't be a location. Which is bad news for the planet, I'm afraid…
For more information about Warren Fahy, visit his official author website.
Posted
on Wednesday, August 12, 2009 at 11:32AM
by

Dark Scribe Magazine
in New Blood
|

Post a Comment