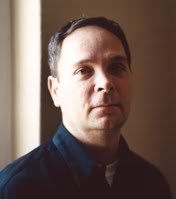 Dark Scribe Press is pleased to announce the inclusion of "The Bloomsbury Nudes," an original work of short fiction by Jameson Currier, in the Unspeakable Horror: From the Shadows of the Closet anthology.
Jameson Currier is the author of the novel Where the Rainbow Ends - a 1998 finalist in the Lambda Literary Awards in the Gay Men's Fiction category - and two collections of short fiction, Dancing on the Moon and, most recently, Desire, Lust, Passion, Sex. His short fiction has appeared in many literary magazines and Web sites, including OutsiderInk, Velvet Mafia, Blithe House Quarterly, Absinthe Literary Review, Rainbow Curve, Christopher Street, Harrington Gay Men's Fiction Quarterly, and the anthologies Men on Men 5, Best American Gay Fiction 3, Certain Voices, Boyfriends from Hell, Men Seeking Men, Mammoth Book of Gay Erotica, Best Gay Erotica, Best American Erotica, Quickies 3, Circa 2000, Rebel Yell, I Do/I Don't, and Making Literature Matter.
Most recently, twelve of his AIDS-themed short stories have been translated into French by Anne-Laure Hubert and published as Les Fantômes. His reviews, essays, interviews, and articles on AIDS and gay culture have been published in many national and local publications, including The Washington Post, The Los Angeles Times, Newsday, The Dallas Morning News, The St. Louis Post-Dispatch, The Minneapolis Star-Tribune, The Philadelphia Inquirer Magazine, Lambda Book Report, The Harvard Gay and Lesbian Review, Dallas Voice, The Washington Blade, Southern Voice, Metrosource, Bay Area Reporter, Frontiers, Ten Percent, The New York Native, The New York Blade, Out, and Body Positive.
In 2003, he was a recipient of a writing fellowship from the New York Foundation for the Arts. He is a member of the board of directors of the Arch and Bruce Brown Foundation and currently resides in Manhattan.
Posted
on Monday, May 5, 2008 at 06:07AM
by

Dark Scribe Magazine
in Anthology Contributor
|

Post a Comment

View Printer Friendly Version