The Hammer Story / Marcus Hearn & Alan Barnes
Monday, November 12, 2007 at 01:09PM
Dark Scribe Magazine in Non-Fiction Reviews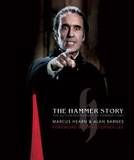 Titan Books / September 2007
Reviewed by: Blu Gilliand
In 1934, Hammer Productions Limited, a new filmmaking venture headed by entrepreneur/vaudeville veteran William "Will Hammer" Hinds, began production on its first film, The Public Life of Henry the Ninth. Beginning with this modest 61-minute comedy, the studio embarked on an eclectic slate of short films, thrillers and whodunits before hitting its stride with The Quatermass Xperiment, a science fiction/horror hybrid that firmly established the quality and atmosphere Hammer would provide film fans for years to come.
In The Hammer Story, a handsomely-produced oversize hardcover from Titan Books, Marcus Hearn and Alan Barnes faithfully document the humble origins of the famous studio in a couple of short, detailed chapters before diving headlong into the films themselves. The book leans heavily on Hammer's bread-and-butter horror pictures, including the Quatermass movies and the various incarnations of Frankenstein and Dracula, but doesn't skimp a bit on Hammer's forays into genres as diverse as comedy, prehistoric adventure, and science fiction.
Dozens of films produced under the Hammer banner get comprehensive two-page spreads packed with production photos, publicity stills, posters and playbills, as well as in-depth, behind-the-scenes examinations of how the studio got the movies made. Wherever possible, the authors include anecdotes from key members of the cast and crew that range from the mundane to the fascinating. Many crucial figures in Hammer history, such as director Terence Fisher and actors Peter Cushing and Christopher Lee, have sections devoted exclusively to their contributions.
Where The Hammer Story truly succeeds (aside from the spectacular collection of photos and artwork) is in tone. This is no dry critical examination. The authors skillfully walk a fine line, treating the subject matter with reverence and respect without devolving into hero worship. The result is an information-packed book that is a true joy to read.
Purchase The Hammer Story by Marcus Hearn and Alan Barnes.
Article originally appeared on Dark Scribe Magazine (http://www.darkscribemagazine.com/).
See website for complete article licensing information.