In-Depth Discussions with Today's Darkest Talents
By, Désirée I. Guzzetta
The best way to get a sense of what Douglas Clegg is like, barring actually meeting him, is to take a look at the whimsical bio on his author website.
There you'll learn fun facts, such as his humble beginnings as a paperboy at age 12; how he "conquered" babysitting; that he worked at a place called Wolf Trap Farm-Park; or, that he likes to wrangle rabbits.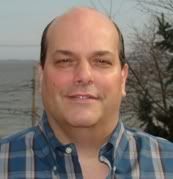 You'll also learn that he's been writing since he was a child – he received his first typewriter at age eight – completing his first novella, Asylum, at age 17. That early start has resulted in dozens of short stories and several novels, a Stoker Award and an International Horror Guild Award (both for his short-story collection, The Nightmare Chronicles), and a Shocker Award (for the collection, The Machinery of Night). In 2011, Clegg will be a Guest of Honor at the HWA Stoker Weekend in New York.
Clegg has had over 20 books published, beginning with 1989's Goat Dance and including a few written under the pseudonym Andrew Harper. In 1999, Clegg was the first author to have a publisher-sponsored e-serial novel, Naomi, on the internet.
2010 has seen the release of a 20th anniversary trade paperback edition of Clegg's Southern Gothic novel, Neverland, complete with beautiful illustrations by artist Glenn Chadbourne. A scary supernatural tale of childhood, Neverland draws you in with its splendor — and then punches you harshly in the gut.
Most people would take some time off to celebrate such a significant milestone, but Clegg continues writing (he says about his writing rituals, "I write every day or else I suffer") from his home on the East Coast, where he lives with his husband and business partner, Raul Silva, and several pets. Dark Scribe Magazine recently caught up with Clegg via email (apropos for a man many consider to be a pioneer in eBooks) to discuss his love of writing, how he created Neverland, and supernatural fiction.
Dark Scribe Magazine: You wrote Asylum at 17. Were there other works before then?
Douglas Clegg: I was about eight years old when my mother gave me a typewriter because I was drawing and writing a lot of stories. I had been doing this since I was about four, but it was at eight that I taught myself to type and started writing fiction seriously. I've never stopped, although I have taken a year off now and then.
Dark Scribe: What do you love most about the act of writing?
Douglas Clegg: The discovery of story, the excavation — digging it out of my mind, finding out more about it, living and breathing it while I'm working on it. And then the whole business side, which is when my agent calls to tell me an editor loves the book and wants to buy it. That's a great post-writing moment.
I love the days when I get excited about getting out of bed in the morning and race to my desk to get back to living in the world of the story.
Dark Scribe: What do you feel are the ways in which the Internet has changed the relationship between the author and the reader?
Douglas Clegg: There's more immediacy and of course more communication with people in general. Beyond that, I write novels the same way I did before I was ever on the Internet: one word at a time, and in isolation.
Dark Scribe: Why did you choose Neverland for a special re-release? What about the novel makes it even more relevant for the times than when you first wrote it?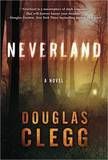 Douglas Clegg: It's one of my best novels and after nearly 20 years, it seemed like it was a good time. The novel first came out in early 1991, and was out of print quickly back then. Vanguard Press created a beautiful trade paperback edition. It has a rough-edged paper, and the cover has French flaps and a smooth texture to it that's inviting. Plus, of course, those beautiful Glenn Chadbourne illustrations.
I believe that Neverland's appropriateness today may simply be that we're now further removed from what life was like for families and children in the 1960s than we were in 1991. In 1991, the Internet had not yet overwhelmed summer days spent barefoot in the tall yellow grass, without a cell phone.
Those were both dangerous and wonderful times. No one made up your fun for you; you had to create it yourself. You played house, you played school, you discovered shacks in the woods and old cemeteries. Neverland takes place in a world of endless childhood, which I think is appealing to revisit, fictionally.
Dark Scribe: Did you draw upon your own childhood for the way the children in Neverland speak, think, feel?
Douglas Clegg: I drew on my childhood completely for Neverland, and on the observed childhoods and family lives of others. I have intense memories from an early age. I can even remember the day I had to abandon bottles and go to a glass for my milk (in the days just before plastics took over). I remember clinking my teeth on the glass and not liking it one bit. I think these memories played into the writing of the novel. I also fell in love with a particular island off Georgia that became a sort of model for Gull Island in the novel.
I also drew on my influences, Saki, Machen, maybe even a little Lovecraft, all of whom I discovered as a kid, reading on a summer's day at a basketball camp in Davidson, North Carolina, picked from a big suitcase full of books that the woman who ran the campus laundry gave me to read in between basketball practice. It was a confluence of childhood, mystery, southernness, and the supernatural.
I miss the South. I lived a good deal of my life there and I'm a Virginian by birth (yet I thought I was Hawaiian until I was six or seven, since my earliest memories are of Oahu). I went to college in the South and traveled to see friends and their families all over the southern states. I'm completely in Yankee country now, also part of my background since I spent a small portion of my childhood in Connecticut. All of this was the result of being a Navy brat and having parents who were nomadic. They liked to live in various places; I do, too.
Dark Scribe: How did you meet Glenn Chadbourne?
Douglas Clegg: I must have met Glenn at a Necon in Rhode Island at some point, years ago. He is a wonderful artist. Half the fun of being published is getting to know artists. If I could spend my entire life around artists, writers and readers, I'd be happy. Since I do, I guess I must be happy.
Dark Scribe: Are there any motifs in your writing that, upon retrospect, could be read as symbols of your experiences as a gay man?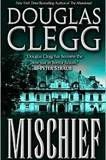 Douglas Clegg: So far, I've had both a rough and charmed life — I've traveled extensively, particularly in my youth, been in places at the right time, through certain moments that seemed ordinary to me but now I can see their significance to a larger world. As a boy, I traveled with my family through Mexico to archaeological sites, then as a teenager, through Spain in its last fascist government days, and lived in Paris, Hawaii, Los Angeles, and various other places. Those and other experiences have informed my writing and my understanding of the human condition. Where I think being a gay male's informed my fiction is simply that I have a stronger sense of being an outsider than possibly (although not always) a straight male.
Additionally, to write fiction, you've had to have been a spy your entire life — a spy on the human condition. Being gay, as a kid, when I didn't even have the language to talk about it or the understanding, I suppose I was spying on others, by being part of their world. Ultimately, I think all writers are spies in that way.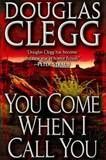 Anyone who picks up a pen to write fiction is already an outsider. You are not living life in the same way as your neighbor if you step back from the world, look at it, and draw from your insides into the outer world to create a story.
I'm not sure my fiction is differently informed than many other novelists who strive to create from their perception of human nature and the world. I would not want to set up special categories for writers. I agree with Walt Whitman when he wrote, "I contain multitudes." This is what writers are — multitudes within an individual, drawn from the imagination and perception.
Dark Scribe: What is it about supernatural fiction that attracted you to writing it? Are there topics you feel are better explored in the horror or fantasy genres than in other types of fiction?
Douglas Clegg: On one level, there's no fiction that is completely about the world as it is. It is always filtered through the perception of the writer. Therefore, supernatural fiction isn't much of a stretch from that — but with it, I can explore aspects of the irrational, as well as issues of life and death in a way that can move toward magical realism or the imaginative unknown.
I find that fiction that's informed by a reimagining of the world with certain attributes that may or may not be here – ghosts, for example – interests me because there's something about the internal perception of the character that comes into play. In some respects, many stories about hauntings are about memory, self-deception and the projections of the irrational mind. Or, they're about ghosts.
I also enjoy the supernatural in fiction. Mythology, the supernatural, fantasy, a certain kind of horror story —those are my favorites.
Dark Scribe: How have the horror, fantasy, and psychological suspense genres evolved since you first began reading and writing?
Douglas Clegg: I haven't spent time studying the evolution of these genres. I'm interested in story on a level that pretty much ignores genre. I've begun to redefine what my stories and novels are over the years. I love horror fiction, but primarily my own personal definition of it, which doesn't always jibe with where the genre seems to be. I see what I do as supernatural fiction, and from there it can get parsed into horror, fantasy, mystery or suspense, depending on how publishers and booksellers and readers want to do it.
What seem to define genres are reader expectations, and those expectations do change over time. To stay with a genre, you've got to ride those expectations, and I don't have any interest in doing that. I'm not going to tailor my fiction to the tidal shift of any one genre's readers, nor am I going to write the same book over and over again, as I see some writers doing just to keep riding that one wave all the way to the rocky shore.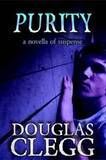 But I do intend to stake out a territory that's my own in the realm of supernatural fiction, however it's categorized by others. To some extent, I feel my first 20 or so novels were a learning curve. Of them, I think there are six that came out right: Neverland, The Hour Before Dark, The Priest of Blood, Isis, Purity, and Mordred, Bastard Son. Those novels/novellas are somewhat "across the board" — horror, fantasy, dark fantasy, suspense. I don't hate the other books I wrote, but they didn't quite do what I intended them to do within their stories. These six did.
I believe my current projects – the heavy revision of The Innocents at the Museum of Antiquities, a novella called Mr. Darkness, a novel I'm working on called The Language of Wolves as well as this other fantasy novel – all can be added to those six, too, when these are complete. I've been slow to finish these projects because they're breakthroughs for me, each in their own ways. My work as a writer is not yet done.
For more about Douglas Clegg, visit his official author website.
Posted
on Thursday, November 11, 2010 at 07:51AM
by

Dark Scribe Magazine
in Authors
|

1 Comment