By, Vince A. Liaguno
We all have those cherished childhood memories of eagerly tearing through the latest issue of Famous Monsters or Fangoria. We devoured every morsel of information about upcoming releases, thrilled at how complex special effects were executed, and marveled at gory movie stills. For many of us, those childhood reading habits have carried over into adulthood. Horror magazines are a connection to the genre we love.
But in the ensuing years since Famous Monsters and Fangoria became staples of our monthly reading piles, a few notable players in the horror entertainment business have emerged and now compete for our hard-earned reading dollars. So which ones measure up? And how do these pulse-pounding periodicals stack up against one another?
Dark Scribe Magazine recently sat down with current copies of Fangoria, Rue Morgue, GoreZone, and HorrorHound to grade their efforts. Who emerged top of the class – and who should be sent back for some remedial work?
Report Card: HorrorHound
Who? HorrorHound, published by Jeremy Sheldon, is the new kid on the block with just a dozen issues under its belt.
Status: Student
Visual Appeal: For a relatively new publication, HorrorHound has the look of a seasoned pro. From its visually appealing covers to its glossy interiors, the magazine invites readers in. Graphic design work and layout is remarkably top-notch for a fledgling publication. Grade: A
Content: HorrorHound boasts the strongest retro vibe of its competitors. In Issue #12, there is a fascinating look back at the prolific VHS distributor Vestron Video; an impressive 12-page retrospective on the iconic Halloween film franchise; and another 5 pages devoted to the staff's picks for the most underrated slasher films of the 1980's. Grade: A+
Variety: There's much more between the pages of HorrorHound than retrospectives, including: current movie and TV news, convention reports, DVD releases, extensive feature articles on horror-related toys and collectibles, video games and comic books, and even a unique film-related travelogue that features location shots from various genre films – then and now. Grade: B+
Writing: Editors Nathan Hanneman and Aaron Crowell share primary writing responsibilities and perhaps therein lies the biggest weakness with HorrorHound. The grammar is cringe-worthy at times and the spelling and usage is atrocious in spots ("exasturbated" for "exacerbated", "drones" instead of "droves", "Never the less" instead of "nevertheless'). Maybe instead of a "proof writer" the magazine would benefit from the services of a competent proofreader. Worse, the magazine welcomes outside submissions, but pays writers with byline credit and sample issues. Grade: C-
Bibliophile Appeal: With such a broad spectrum of topics covered, it's puzzling why there's not a book review or author interview in sight. The creative forces behind the magazine are clearly aiming for a diverse audience – with everything from films, toys, comics, and video games covered – yet gloss over this important aspect of the genre. Grade: F
Summary: HorrorHound has something its competitors don't seem to have – heart. Lots of it in fact. The magazine gets major kudos for acknowledging that there's an entire audience of horror fans over the age of 30 with fascinating and lovingly detailed retrospectives. That said, with a cover price of $6.95, readers expect some of that same attention paid to the writing and deserve a more professional presentation. DSM's advice: buy a few freelance pieces at professional rates to add some flavor and polish to the writing. Invest in a seasoned proofreader. Acknowledge that horror fans read, and include some book reviews and author interviews. Tap into your major strength – the retrospective – and do a spread on Richard Laymon or Bentley Little or that other guy named King. The results will be phenomenal. A little fine-tuning and a few tweaks in the right direction and we predict that HorrorHound could become the face of horror-related entertainment magazines.
Outlook: Tremendous potential. Watch out Fangoria!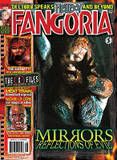 Report Card: Fangoria
Who? Fangoria, published by the Starlog Group, is the veteran of the group. With 275 issues and counting, this Godfather of horror magazines is by far the slickest, most well-established in its field.
Status: Tenured Professor
Visual Appeal: Fangoria boasts one of the best covers in the industry, with an always gruesome cover shot dominating its central frame and its (now iconic) left-hand film strip of smaller images and grabby headlines. What we like best about Fangoria's covers is the magazine's loyalty to its own brand – a visual consistency that's as well-worn and comfortable as Pamela Voorhee's turtleneck sweater. Interiors feature fantastic high-resolution film stills on glossy pages and outstanding layout work. Grade: A+
Content: The magazine has made a name for itself covering all aspects of horror filmmaking and its contents reflects the ever-changing industry trends. One thing is consistent: Fangoria is an equal opportunity PR machine with films of every budget – from blockbuster to bargain basement – receiving generous coverage. In the 1980's, the magazine lavished three- and four-page spreads on every low-budget slasher flick that came out of Canada; today, those same lavish spreads are bestowed upon every direct-to-DVD title. Black Christmas or Black Sheep, Fangoria has it covered. Grade: A
Variety: Fangoria's content is heavily skewed in the direction of film and is, surprisingly, the least well-rounded of the lot in terms of all-around horror entertainment. Peripheral horror-related entertainment – video games, comics, and books – are relegated to five pages or so per issue, with a monthly retrospective accorded another two pages. 90% film, 10% everything else. Grade: B-
Writing: Longtime Editor Anthony Timpone and Managing Editor Michael Gingold do a remarkable job putting out a consistently well-written magazine month after month. Fangoria has roughly fifteen professional writers contributing feature articles, interviews, and film set reports in each issue. It's a well-paying market for writers skilled (and industry connected) enough to crack it, and the financial commitment to quality shows. Grade: A
Bibliophile Appeal: Fangoria dedicates (2) out of its (81) pages in Issue #275 to dark genre fiction reviews. While not impressive from a percentage standpoint, the 5-6 reviews each month are substantive and well-written. Author interviews are infrequent at best. Grade: B-
Summary: After 25 years, Fangoria's current $8.99 cover price is still one of the best bargains in town for first-class coverage of horror films. While the old adage says not to tinker with what's not broken, reliable 'ole Fango could benefit from an injection of fresh ideas and a gradual broadening of its subject matter within the horror genre. It's all becoming a bit rote and routine. The editors would be wise to tear a page from HorrorHound's playbook and acknowledge the genre's loyal (read: aging) readers with some more retrospective features. And come on, Fango - would it kill you to include one author interview per issue?
Outlook: With both the talent and the bankroll, Fangoria needs to take a risk by broadening its editorial horizons a bit and reaching out to the horror genre's diverse readership not interested in the proliferation of direct-to-DVD titles covered in their (deservedly) hallowed pages.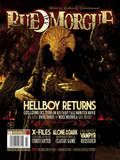 Report Card: Rue Morgue
Who? Rue Morgue, published by Marrs Media, is the lone Canadian entry in the horror magazine fold. With an impressive longevity of its own (80 issues to date), the monthly publication has grown slowly and steadily since it debuted in 1997.
Status: Adjunct Professor
Visual Appeal: As the most stylish publication in the group, Rue Morgue boasts a monthly color-coordinated cover that's decidedly more artistic in concept and favors subtlety over flash. Glossy interiors are distinctly gothic in tone and definitely set a mood. Flipping through the pages of Rue Morgue is like strolling down a fog-enshrouded, cobblestoned alleyway in old London. Grade: A
Content: Reading Rue Morgue is like wandering through a flea market in print. There is a nice balance of features that range in age appeal, with enough current movie news, features, and reviews to keep readers up-to-date and enough retrospectives to evoke feelings of nostalgia in spots. Grade: A
Variety: If Fangoria can be faulted for its limited scope, Rue Morgue is a bit guilty of over-ambition at times with subject matter that tries to be too all-encompassing. Aiming to go beyond mere horror in entertainment, Rue Morgue includes a healthy dose of horror in culture as well – resulting in coverage of everything from horror on the Internet, horror-themed music and bands, a travelogue that examines the horror spots at various destinations around the world, and a monthly compilation of macabre facts and statistics. Not to say the variety is bad, per se, but readers are often left with a feeling of sampling versus satiation. Grade: A-
Writing: Like Fangoria's editorial team of Timpone and Gingold, Rue Morgue Editor-in-Chief Jovanka Vuckovic and Managing Editor Dave Alexander know their way around a magazine. Nearly two dozen contributors add as much diversity to the magazine's writing style as to its table of contents. Polished and professional at times, casual and conversational at others, the writing is generally a mixed bag that (thankfully) falls squarely in the respectable category. Grade: A-
Bibliophile Appeal: Rue Morgue lays claim to the largest section of editorial space dedicated to books – four pages (out of 70 in Issue #80). And while the coverage ranges from marginal capsule synopses to more weighty reviews, the magazine acknowledges its horror readers and never makes them feel second-class. In addition, the magazine often features author interviews – ranging in size and scope depending upon the writer's status and body of work. Readers get an occasional bonus – as in the current issue – when the magazine includes interviews with screenwriters. Grade: A-
Summary: Rue Morgue is the closest thing horror fans can find in a horror entertainment magazine that meets the definition of "well-rounded." It's a classy production on all fronts with no stone left unturned in the realm of horror entertainment. Good intentions aside, the magazine seems cluttered at times and much of the culture pieces feel extraneous. Pare down a bit. There's an underground vibe to the magazine that at once renders it as authentic as they come while detracting from its otherwise mainstream sensibilities. Good reaching for great.
Outlook: A consistently solid revolutionary poised to overthrow Fangoria's throne - if it doesn't overstuff the pot.
Report Card: GoreZone
Who? GoreZone, the UK version of Fangoria that launched in September of 2005. Currently at 33 issues and counting.
Status: Teaching Assistant
Visual Appeal: As slick and flashy as its US counterpart, but with about as much feeling as an 80's music video. Movie stills are actually crisper than those in Fango (if that's even possible) but the layout work (large font, unusual line spaces and gaps between paragraphs, and triple columns) distracts a bit. Grade: B
Content: With a cover price of $8.99, the pickings are meager in this slim 56-page tome. Major release films (Prom Night, The Ruins, Shutter) get impressive multi-page treatment. Issue #30's 5 ½ page feature on European horror is also substantive, as is the five-page profile of Dimension Extreme. Other features include: movie news, DVD reviews, an interview with SFX artist Dave Bonneywell, a trio of video game reviews, two uneven columns by resident scream queens, and even a how-to guide on making your very own fake intestines. Grade: B
Variety: Little. Mainly movies with a smattering of "other." Grade: C
Writing: Conversational tone of the writing here lends itself more to fanzine than magazine. Although there's more finger-flipping commentary going on than straight-ahead journalism, Editor Bryn Hammond does a respectable job of keeping it all together – like the sensible president of a raucous fraternity. Grade: B-
Bibliophile Appeal: GoreZone dedicates a single page to coverage of dark genre fiction. Three books were reviewed in the issue we considered for this article. Writer Garry Charles does great work with his limited editorial space. Grade: C+
Summary: A poor man's Fangoria, albeit edgier. GoreZone is like a teenager – chock full of out of control hormones and growth spurts but capable of genius with a little Ritalin. Reminded us a bit of Fango in training pants.
Outlook: A promising work in progress.
DSM's Bottom Line: Although you can't go wrong with the steadily reliable Fangoria or the stylistic approach of Rue Morgue, or even the bolder GoreZone, HorrorHound (technical demerits notwithstanding) marches to the head of our class here. The unadulterated enthusiasm and affection for the horror genre of everyone involved is infectious. Even the features that wouldn't ordinarily grab our interest were so visually appealing and written with such heart that we couldn't help but read. HorrorHound is one underdog that ably recaptures what readers love best about the horror genre. Now if only they'd include something for book lovers(!).
To learn more about the magazines covered here and for subscription information, visit them online:
Posted
on Tuesday, July 15, 2008 at 07:19AM
by

Dark Scribe Magazine
|

2 Comments