Winner: Congratulations to reader Ana Luisa Santiago of Luquillo, Puerto Rico, who was chosen at random as our winning entry! Thank you to all those who entered the contest by completing a Reader Survey. We appreciate your feedback.
Acclaimed horror writer Bentley Little helped launch Dark Scribe Magazine back in October of 2007 with the magazine's very first author interview. So what better way to celebrate DSM's first anniversary than by going back to where it all began with a once-in-a-lifetime giveaway?
Here's your chance to win a signed hardcover book club edition of Bentley Little's latest terror tome, The Academy. To sweeten the pot, we (gingerly) twisted our favorite dark scribe's arm and got him to sign a color 8x10 Academy publicity shot. (The author photo was an exclusive signing just for us that the candid scribe says was a one-time deal.)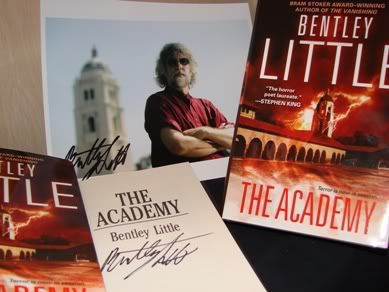 As fans of Bentley Little know the author never tours, never does public book signings - and he's told us that he's never signed an author photo before. The winner of this contest will win both the rare signed hardcover book and one of only two signed Bentley Little photos in existence (the author's exact words!). And the other photo, you ask? Hey, we're not stupid - we asked him to sign one for us, too!
To enter, you must be a registered DSM reader. After registering, simply log-in and complete our new Reader Survey. We will select one winning survey at random. Only one reader survey per email address will be accepted.
This contest has now ended.
Posted
on Monday, November 24, 2008 at 10:43AM
by

Dark Scribe Magazine
| Comments Off
Congratulations to Charles Day of Ridge, New York, who was chosen at random as our winning entry! Thank you to all who entered.
Sarah Langan made waves last year with her haunting debut novel, The Keeper. Hailed by critics and nominated for a Stoker award, The Keeper only hinted at the great things to come from the genre's newest dark scribe. The Missing is Langan's highly-anticipated follow-up, and the critical acclaim is resounding:
"…a genuine creepfest that recalls, in the best way possible, the early work of Stephen King… Langan has the control of a
pro, parsing just enough horrific details to allow the truly gruesome scenes to play out unbound in the imagination; this solid sophomore effort proves that the uncanny ability of The Keeper to burrow into readers' heads and stay there was no fluke." — Publishers Weekly
"This is a writer who actually gets better with each word that flows from her blood-soaked pen… Like King and Straub and Koontz before her, Langan proves that she's no one-hit wonder and is in this for the long haul." - Dark Scribe Magazine
In our newest contest, DSM subscribers can win not one, but two, autographed Sarah Langan novels! That's right...the affable Ms. Langan recently took time during her Missing book tour to sign copies of both The Keeper and The Missing for a fantastic two-for-one giveaway! Both books are new and were signed and dated by Langan during her stop at Borders Books in Westbury, New York, on November 11th. One winner...two terrific books. What could be better?
This contest has now ended.
Posted
on Sunday, November 18, 2007 at 06:12PM
by

Dark Scribe Magazine
| Comments Off
Winner: Congratulations to William Veselik of Virginia who was chosen at random as the winning entry! Thank you to all who entered.
Brian Keene is the reigning king of zombie fiction. While readers devour Dead Sea, his latest flesh–eating novel, Dark Scribe Magazine readers can win a signed book cover flat. Featuring the signature zombie cover art on one side and press release information on the other, this press kit collectible will make for an exciting edition to your own dark genre fiction collection.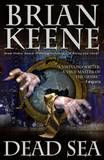 This contest has now ended.
Posted
on Friday, September 14, 2007 at 09:46AM
by

Dark Scribe Magazine
| Comments Off