Dark Scribe Magazine, the virtual magazine dedicated to the books that keep readers up at night, is proud to announce its 4th Annual Black Quill Awards.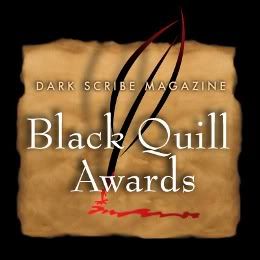 The Black Quill Awards will once again be handed out in (7) categories and will honor those works of dark genre literature – horror, suspense, and thrillers – from both mainstream and small press publishers. While six of the awards will recognize literary efforts, one award will recognize the growing marketing component of book trailer production as an important supporting aspect of book publishing. The eligibility period for DSM's yearly awards runs from November 1st through October 31st. Nominations are announced on or around December 1st each year; winners are announced on or around January 31st.
Nominations for the Black Quills are editorial-based, with both the editors and active contributing writers submitting nominations in each of the (7) categories. Once nominations are announced, the readers of DSM have an opportunity to cast their votes for their picks in each category. In a unique spin intended to celebrate both critical and popular success, two winners are announced in each category – Reader's Choice and Editor's Choice. Winners receive recognition in DSM, inclusion in press release materials announcing both nominations and winners, a virtual icon to be used on their own website, and a handsome award certificate.
The 4th Annual Black Quill Awards will be handed out in the following categories:
Dark Genre Novel of the Year (novel-length work of horror, suspense, or thriller from mainstream publisher; awarded to

author

)
Best Small Press Chill (novel or novella published by small press publisher; awarded to

author

)
Best Dark Scribble (single work, non-anthology short fiction appearing in print or virtual magazine; awarded to

author

)
Best Dark Genre Anthology (multi-author anthology, any publisher; awarded to the

editor

)
Best Dark Genre Fiction Collection (single author collection, any publisher; awarded to

author

)
Best Dark Genre Book of Non-Fiction (any dark genre non-fiction subject, any publisher; awarded to

author or editor

)
Best Dark Genre Book Trailer (book video promoting any work of fiction or non-fiction; awarded to

video producer or production company

)
Nominations for this year's awards will be announced on Friday, December 3rd. All dark genre works published between November 1st, 2009 and October 31st, 2010 are eligible. DSM does not solicit nominations, nor are there any fees associated with the Black Quills. Although our editorial board and contributing writers are active readers and/or writers in the field and are widely aware of dark genre books published, authors and/or publishers wishing to ensure the visibility of a specific title (especially in the case of small press offerings and works of short fiction) are encouraged to take advantage of our reviews program throughout the year. By submitting materials for our review (whether a review is published or not) will guarantee that a title is brought to the attention of someone on our staff. Again, submission of review materials is not a prerequisite for consideration in the Black Quills.
Posted
on Wednesday, October 20, 2010 at 07:57AM
by

Dark Scribe Magazine
in Black Quill Awards
| Comments Off
|

Email
|

Print